FM urges RRBs to speed up digitisation to ensure better services in rural areas
---
PTI
|
New Delhi
|
Updated: 19-09-2023 20:16 IST | Created: 19-09-2023 20:15 IST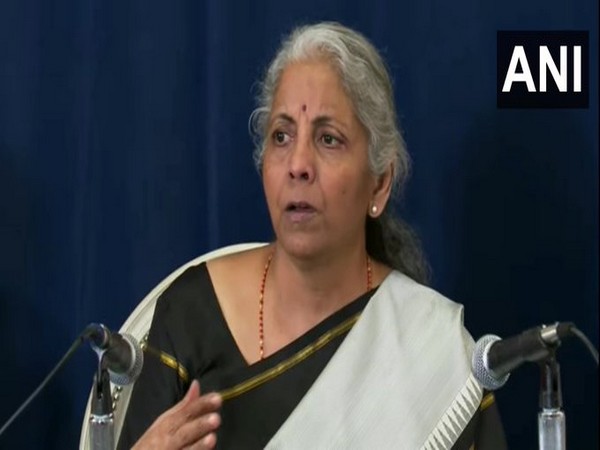 ---
Finance Minister Nirmala Sitharaman on Tuesday expressed concern over the slow progress of computerisation in Regional Rural Banks (RRBs) and urged them to speed up the process to strengthen credit delivery in rural areas. There is still a lot of work to do in digitising RRBs and cooperative banks, she said after launching the 'Kisan Rin Portal' and Weather Information Network Data Systems (WINDS) manual here.
Cooperative banks are not equally endowed, and their financial health varies, she said, adding ramping up capacity in the sector is taking place under the Ministry of Cooperation headed by Home Minister Amit Shah.
The cooperative bank digitisation would happen with the necessary speed, she said. However, she said, ''I am more concerned about RRBs, their digitisation and computerisation. Therefore, if they didn't have it, extending phone bank facility...or internet banking facility...won't work out''. A lot of work is still pending, and the Department of Financial Services is sensitising them to achieve computerisation at a fast pace, Sitharaman said.
Observing that rural India kept the economy going during the severe COVID-19 lockdown, the minister said the farmer and agriculture sector is given high importance by the government.
Surprised by the huge difference between sanction and disbursement by cooperative banks, she asked the DFS to find out the reason for this.
However, the difference between sanction and disbursement is low in the case of scheduled commercial banks.
Speaking at the occasion, Agriculture Minister Narendra Singh Tomar said the various measures taken by the government have enhanced farmers' income.
The Budget allocation for the ministry has gone up multi-fold since 2013-14 as the government led by Prime Minister Narendra Modi attaches great importance to the sector, he added.
On the short-term crop loan, Tomar said there is no dearth of funds for the sector, and the agriculture credit target for the current fiscal has been pegged at Rs 20 lakh crore with a focus on animal husbandry, dairy and fisheries.
Normally, farm loans attract an interest rate of 9 per cent. However, the government has been providing interest subvention to make available short-term crop loans at an affordable rate and help boost farm output.
The government is providing a 2 per cent interest subsidy to ensure farmers get short-term farm loans of up to Rs 3 lakh at an effective rate of 7 per cent per annum.
Speaking on the Kisan Credit Card (KCC), Sitharaman said banks should give all relevant data by December 31, 2023, for the 'Kisan Rin Portal', launched by her to help farmers avail subsidised loans under the KCC Yojana.
She also asked DFS Secretary Vivek Joshi to ensure that all data is provided by the banks within the stipulated time.
The finance minister also unveiled the Ghar Ghar KCC campaign to achieve saturation of the scheme. The campaign is being launched on October 1, 2023.
Sitharaman assured the agriculture minister that she will ensure that banks will provide full cooperation on this to make it a success.
With regard to PM Fasal Bima Yojana, she said that against the premium collection of Rs 29,000 crore, there has been a claim settlement of about Rs 1.40 lakh crore.
On the occasion, the finance minister unveiled a manual of the Weather Information Network Data Systems (WINDS) portal.
The portal -- launched in July -- leverages advanced weather data analytics to provide stakeholders with actionable insights on weather for informed decision-making in agriculture.
This comprehensive manual also provides stakeholders with an in-depth understanding of the portal's functionalities, data interpretation, and effective utilisation, empowering farmers, policymakers and various agricultural entities to make well-informed choices. It also caters to the parametric crop insurance scheme of the ministry, in addition to non-scheme parametric insurance programmes for crop risk mitigation and disaster risk reduction and mitigation being run by the insurance industry.
Referring to the yield estimation tool named 'YesTech', which was launched this Kharif season for wheat and rice, Sitharaman lauded the initiative and asked that this should be expanded to all crops, especially oilseeds and pulses.
She emphasised that yield estimation for crops is very important for policymakers in fixing minimum support and making decisions with regard to the export and import of these commodities.
Kisan Rin digital platform offers a comprehensive view of farmer data, loan disbursement specifics, interest subvention claims, and scheme utilisation progress, fostering seamless integration with banks for more focused and efficient agriculture credit.
There are about 7.35 crore KCC accounts as of March 30 with a total sanctioned limit of Rs 8.85 lakh crore, a statement said.
To extend the benefits of KCC, the door-to-door campaign will reach non-KCC holders, which are beneficiaries of the central scheme PM-KISAN.
The agriculture minister informed that there are around 9 crore beneficiaries under PM Kisan Samman Nidhi, and the aim of KCC Ghar Ghar Abhiyaan is to connect around 1.5 crore beneficiaries, who are not yet connected to the KCC scheme.
(This story has not been edited by Devdiscourse staff and is auto-generated from a syndicated feed.)