VP Dhankhar urges industrialists to utilize CSR funds within the country
For better understanding and harmony between different organs of the state, he called for evolution of a mechanism for periodic exchange of their thought process.
---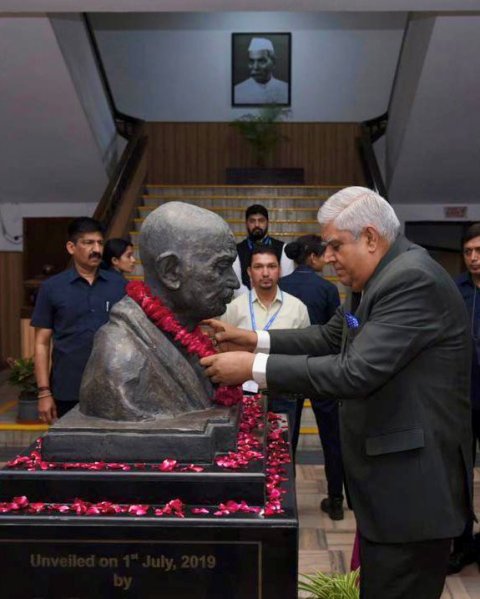 ---
The Vice President, Shri Jagdeep Dhankhar today emphasized the need for Legislative bodies in providing leadership in public policy matters and guiding the public administration for larger welfare of the society.
Delivering the 2nd Dr. Rajendra Prasad Memorial Lecture at Indian Institute of Public Administration (IIPA) in New Delhi today, the Vice President cautioned that the temples of democracy should be the platforms for debate, discussion and dialogue. "If they yield to disruption, disturbance, there will be people around to fill the vacuum and that would be a dangerous trend for democracy," he added. Shri Dhankhar also asked the political parties to never underestimate the intellect of the people as "they know all that is happening".
Highlighting the contribution of Dr. Rajendra Prasad in the framing of the constitution, he underlined that over a period of three years, our Constituent Assembly dealt with some of the most contentious and divisive issues without a single instance of disturbance or disruption.
Expressing his disapproval of the prolonged disruptions as part of political strategy, Shri Dhankhar called it antithetical to the essence of our democratic values. He also stressed the need for the Members of Legislature to distinguish between their legislative obligations and party compulsions.
Calling for developing a collaborative synergy among all three organs of the state to achieve the Constitutional objectives, the Vice President said that "Constitutional Governance is about achieving the dynamic equilibrium in the healthy interplay among the three organs."
Noting that issues are bound to occur between the Legislature, the Executive and the Judiciary, he called for addressing such differences in a structured manner and not through confrontation.
Stressing the need for scrupulous adherence by all institutions to their respective domains, Shri Dhankhar opined that legislation is the exclusive privilege of the parliament and is not required to be analyzed, assessed, or intervened by any other institution. He underscored that primacy of mandate of the People, which is reflected through their representatives, is inviolable in a democracy.
For better understanding and harmony between different organs of the state, he called for evolution of a mechanism for periodic exchange of their thought process.
Emphasising that "the Basis of any Basic Structure has to be the supremacy of Parliament in law making," the Vice President referred to Constituent Assembly debates and said that our constitution framers were consciously took a decision to differentiate between the words 'consultation' and 'concurrence'.
Mentioning that there are some people in India and outside who are not happy to see the country's progress, he urged everyone, especially our intelligentsia to be extremely careful about such elements and counter their nefarious designs. "An intense assault on India's values, integrity and its institutions is emanating from a well maintained incubator out to defame us," he warned.
Noting that some of India's Billionaires are providing funds to foreign institutions, Shri Dhankhar wanted them to provide financial contributions to our institutions of excellence IITs and IIMs rather than going outside. "I firmly believe as an individual whatever CSR fund is, it must be utilized within the country," he said.
Acknowledging that the young talent from remote villages and marginalized communities, including young girls, are joining the civil services, the Vice President appreciated this change in the profile of civil administration.
Asserting that the mantra of new India is 'Less Government, More Governance', Shri Dhankhar lauded the government for its focus on "Ease of Living" along with "Ease of Doing Business". He also stressed the need for Public administrators to remain in tune with the changing expectations and requirements of citizens.
On this occasion, the Vice President also released IIPA publications. Dr. Jitendra Singh, Union Minister and Chairman IIPA Executive Committee, Shri Ranjit Shekhar Mooshahary, Former Governor of Meghalaya, Dr Harshvardhan, Member of Parliament, Shri Sunil Kumar Gupta, Secretary to the Vice-President of India, Shri Surendra Nath Tripathi, Director General, IIPA, Shri Amitabh Ranjan, Registrar, IIPA, faculty members, students and other dignitaries were present.
(With Inputs from PIB)