Newly discovered ice may rewrite our understanding of water
---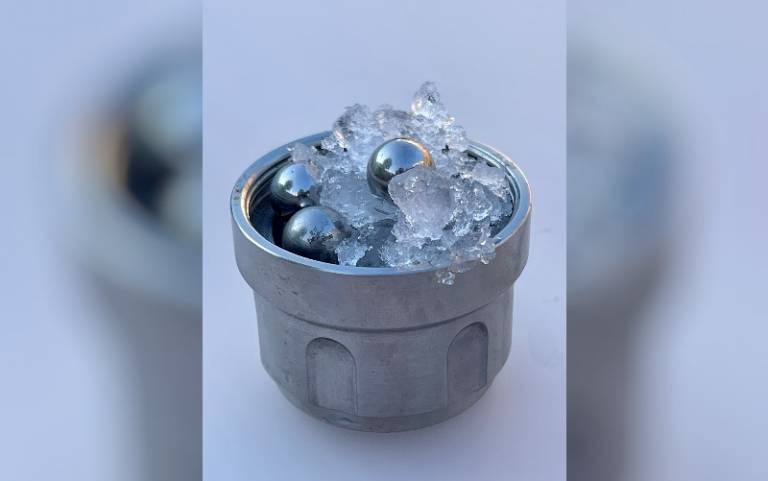 ---
In a breakthrough, researchers at the University College London (UCL) and the University of Cambridge have discovered a new type of ice that is more similar to liquid water than any previously known types of ice. This discovery has the potential to change our understanding of water and its unusual behaviour, the researchers said.
Named medium-density amorphous ice (MDA), the newly discovered ice looks like a fine white powder and the team believes that this type of ice may exist inside ice moons of the outer solar system.
The researchers employed a technique known as ball milling, which involved vigorous shaking of ordinary ice with steel balls in a jar cooled to an extremely low temperature of -200 degrees Celsius. The results were unexpected; instead of producing small fragments of ordinary ice, a unique, amorphous form of ice was formed, which was distinct from other known ices - it had the same density as liquid water and its state was similar to that of water in solid form.
Additionally, the researchers discovered that heating and recrystallizing the medium-density amorphous ice, or MDA, produced a remarkable amount of heat, which according to the team could cause tectonic movements and "icequakes" in the kilometer-thick ice layers on moons like Jupiter's Ganymede.
"We know of 20 crystalline forms of ice, but only two main types of amorphous ice have previously been discovered, known as high-density and low-density amorphous ices. There is a huge density gap between them and the accepted wisdom has been that no ice exists within that density gap. Our study shows that the density of MDA is precisely within this density gap and this finding may have far-reaching consequences for our understanding of liquid water and its many anomalies," explained senior author Professor Christoph Salzmann (UCL Chemistry).
The researchers put forth the idea that MDA may be the actual glassy form of liquid water, similar to how glass windows are solid forms of liquid silicon dioxide. Another possibility is that MDA is not in a glassy state, but rather in a highly strained crystalline form.