Bluehost Reviews 2021:Features, Pricing, Pros & Cons
From an individual who desires full functionality on a small budget to businesses looking to build and grow a professional website, Bluehost hosting packages are designed to fit all customers' varying needs. The company offers multiple plans to suit the needs of beginners, professionals, and in-betweens, with the cheapest planning starting at USD3.95/month. In this article, you will get complete Bluehost hosting review, regarding its features,pricing,pros & cons.
---
---
Disclosure: This content is reader-supported, which means if you click on some of our links that we may earn a commission.
Bluehost is one of the most popular and largest web hosting solutions globally that currently powers over 2 million websites globally. Founded in 2003, the company provides a suite of products and resources to cater to the web hosting needs of everyone-novice or pro.
From economical shared hosting plans to optimized WordPress hosting solutions and flexible VPS to Dedicated server solutions, Bluehost offers several web hosting options. Each hosting is available in three or four plans to fit the varying needs and budgets of customers. Notably, Bluehost is a WordPress recommended hosting service since 2005.
This Bluehost web hosting review article will provide an in-depth look at the hosting plans and pricing, features, customer support, pros and cons of the web hosting service provider to help you decide if it is the right platform for your website.
Bluehost Reviews 2021:Features, Pricing, Pros & Cons
Bluehost offers several web hosting options- Shared, WooCommerce, WordPress, Virtual Private Server (VPS), and Dedicated Servers - with varied features and prices. With each web hosting, Bluehost also provides optional add-ons, a feature-rich toolset to help customers improve their website's performance and overall experience.
Bluehost Features
Recommended by Wordpress.org

Fast Web pages

Built-in Security

Blue Flash Launch Support

Ecommerce Features

30 days money-back Guarantee

Easy to use Dashboard

24/7 Expert Support
Bluehost shared hosting review
Shared hosting is one of the most popular and affordable ways to get a website online for beginners. It is suitable for those running a small business or startup and wants to keep costs down.
Bluehost's Shared web hosting plans vary in prices and features, with each offering an SSL certificate, domain name, 24/7 customer support, and more. Their shared web hosting solution includes four plans-
Basic

Plus

Choice Plus

Pro
The basic plan is for novice bloggers and small businesses who need hosting for a single website. The basic shared hosting plan starting at USD3.95 per month (36 months), includes a free domain for one year, 50GB SSD storage, custom themes, 25 sub-domains, 5 email accounts, 100MB email storage, unmetered bandwidth, free SSL certificate, free content delivery network (CDN), a globally distributed network of web servers that ensures fast and reliable content delivery, and more features.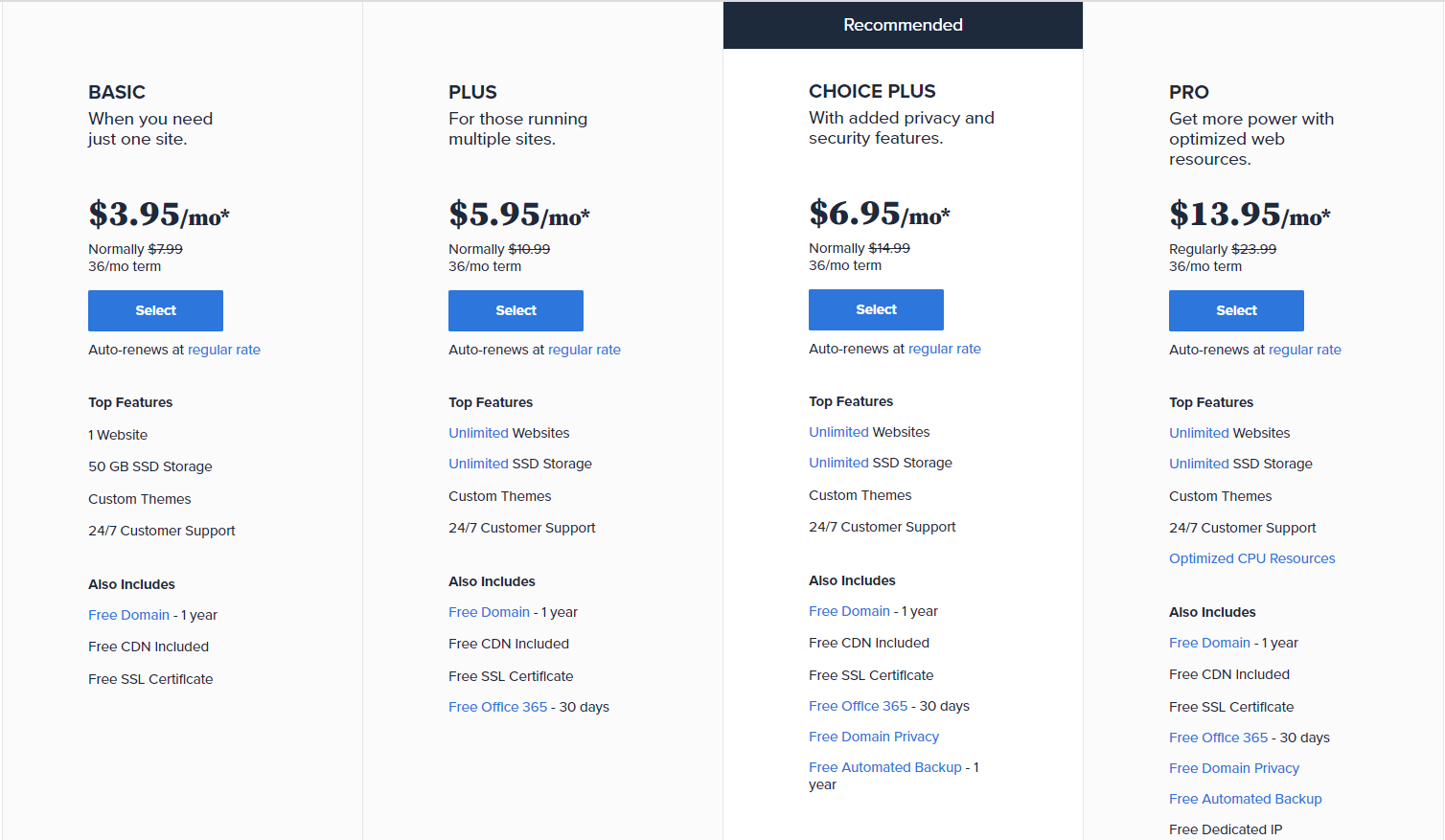 Higher plans - Plus, Choice Plus, and Pro - include the ability to host an unlimited number of websites, unlimited email accounts, unmetered storage and bandwidth, unlimited sub-domains, free Office 365 for 30 days, and free SSL certificate, among other features.
The top tier plan - Pro - includes additional features like high performance, one free domain privacy, free dedicated IP, automated backups for one year (also included with the Choice Plus plan).
Additionally, marketing credits are included with the shared hosting plans. They include:
USD100 Google Ads: It can be redeemed by logging into an active Google Ads account and spending at least USD 25 on your Google Ads campaign

USD100 Binge Ads: This USD100 credit can be redeemed by logging into an active Bing Ads account, but there is no minimum spend limit with Bing Ads.
Apart from these features, Bluehost also offers add-on products and services with shared hosting plans. These include- Dedicated IP, Premium SSL, Spam Experts, Microsoft 365, Domain Privacy, SiteLock, search engine optimization (SEO) Tools, CodeGuard, and Terms of Service.
Bluehost Optimized WordPress hosting review
Bluehost Optimized Hosting for WordPress, aka WP Pro or Managed WordPress, is a managed hosting service suitable for high-end WordPress sites and online stores. Since it is a managed hosting, the service provider will handle the server's daily maintenance and the applications to keep your WordPress website fast and secure.
Bluehost offers Optimized Hosting for WordPress in three levels-
All three levels come with top features like 99.9% uptime, auto-scalability to meet traffic demands, a suite of marketing tools, free site migration, free live support, and multi-tiered security, including free SSL Encryption on all plans, among others.
With the all-in-one marketing center and dashboard, website owners can control their SEO, social media, and traffic sources from a single dashboard, including keyword selection, content improvement recommendations, and auto-sharing to Twitter and Facebook.
The standard plan called 'Build' starts at USD19.95 per month (36 months term) is best for websites expecting up to 50,000 monthly visitors.
This plan includes 20GB of web storage, 200+ edge servers, free SSL, daily scheduled backups, and security features like malware detection and Removal and Domain Privacy + Protection.
The top-tier 'Scale' plan, which starts at USD49.95 per month, is optimized for WordPress websites that expect up to 500,000 visitors per month. This plan includes 80GB of web storage, unlimited backups and restores, PayPal integration, unlimited Video Compression, Elastic Search for advanced filtering and blazing fast search results, built-in SEO tools to boost search engine rankings, and more features.
Apart from this, all plans include Jetpack, a powerful plugin that delivers many benefits, including enhanced site search and the ability to monetize your site with one-click ad creation.
Jetpack Personal

: Included with the Build plan, it provides access to free WordPress themes and additional tools

Jetpack Premium:

Included with the Grow plan, it provides access to additional WordPress tools, including the Jetpack ads network

Jetpack Professional:

Includes with the Scale plan, it provides access to online store features like PayPal integration, Elastic Search, and Jetpack ads network
Bluehost VPS hosting reviews
VPS hosting allows for RAM, CPU, and storage resources to be dedicated to each user's account and is ideal for websites that have outgrown shared hosting or those dealing with resource-heavy applications and secured data.
Bluehost offers three VPS hosting packages.
Standard VPS hosting

Enhanced VPS hosting

Ultimate VPS hosting
You can pick one based on the number of resources your website needs.
The Standard package starts at USD18.99 per month, and it includes 2 CPU cores, 30GB SSD storage, 2GB RAM, 1TB bandwidth, and 1 IP address, whereas the top-tier plan - Ultimate- starts at USD59.99 per month and the package includes 4 CPU cores, 8GB of RAM, 128GB of SSD storage, 3TB bandwidth and 2 IP addresses.
Bluehost recommends the mid-tier package - Enhanced - that doubles the Standard plan's offerings expect for the CPU cores.
Additionally, one year of free domain registration, free SSL certificate, enhanced control panel, optional add-ons including SiteLock, Domain Privacy + Protection, and the ability to add additional resources like storage instantly, and more features are included with each Bluehost VPS hosting plan.
Bluehost implements KVM hypervisor virtualization technology to ensure that the resources you purchase are guaranteed to be available at all times.
Bluehost WooCommerce hosting review
WooCommerce is a WordPress plugin for building a full-featured online storefront and selling products or services online. It adds all the essential features of a basic online store, including shopping cart functionality and multiple payment gateways, to any WordPress website. Additionally, users can add extensions (add-ons) for more features like a specific payment gateway, currency converters, and branding tools, to name a few.
Bluehost automatically installs WooCommerce on top of your WordPress website with built-in security - free SSL certificates and Jetpack included - to keep your website and transactions secure.
The company offers two different WooCommerce hosting packages.
The Standard package starts at USD 15.95/month for a 36-month term. The package includes an online Store (Website + Blog), unlimited products, Jetpack free installed, Storefront theme installed, payment Processing (One-Click Install), CodeGuard Backup Basic for one year, and other features.
On the other hand, the Premium plan starts at USD24.95/month, and it offers customization features to grow your online store. The package includes all the features from the standard plan and online bookings & appointment scheduling, subscriptions, and product customization to create custom options like size, color, gift wrapping, etc., Free Domain Privacy + Protection, and CodeGuard Backup Basic.
Both plans support the ability to create discount codes, collect and manage customer reviews, create orders manually and provide real-time data on website performance, including site traffic. Further, users can add capabilities with a host of powerful e-commerce plugins in the Bluehost marketplace, such as FedEx Shipping, USPS Shipping, PayPal Pro, Amazon Pay, WooSlider, and currency converter widget, to name a few.
Bluehost Dedicated hosting review
Dedicated hosting is the fastest, best hosting platform offered by Bluehost. For those unaware, dedicated hosting is a website hosting environment that provides the ultimate performance, privacy, and control as the servers are not shared with any other users. This type of hosting is ideal for high traffic websites.
Bluehost's dedicated hosting platform is built on OpenStack. The company provides you with its installation of WHM, an enhanced installation of cPanel for managing resources, its custom Domain Manager, and Server Management tools.
The company offers three dedicated hosting packages.
Standard Dedicated

Enhanced Dedicated

Premium Dedicated Dedicated
Based on the number of resources your website needs, you can choose any plan. With each new plan, Bluehost offers a free domain name for 1 year, a free SSL certificate, extreme speed, and storage upgrades. Further, users can enhance their accounts with optional add-ons, including Domain Privacy + Protection, SiteLock, and spam protection.
As for the resources, the standard plan includes 4 CPU cores (@ 2.3 GHz), 500GB (Mirrored) storage, 4 GB RAM, 5TB Bandwidth, and 3 IP Addresses. It costs USD79.99 per month.
Bluehost recommends the mid-tier Enhanced dedicated hosting package that starts at USD99.99 per month and includes 4 CPU cores @ 2.5 GHz, 1TB (Mirrored) storage, 8 GB RAM, 10 TB bandwidth, and 4 IP Addresses.
The top-tier plan, i.e., the Premium dedicated hosting package, costs USD 119.99 per month. It includes 4 CPU cores @ 3.3 GHz, 1TB (Mirrored) Storage, 16 GB RAM, 15TB Bandwidth and 5 IP Addresses.
Bluehost SEO tools review
SEO or search engine optimization improves a website's ranking in the natural or organic results of major search engines, including Google, Yahoo, and Bing.
Bluehost SEO Tools is a DIY tool that helps you analyze your website and provides recommendations, tasks, and instructions to optimize it.
It is worth mentioning that the SEO tool doesn't make these changes for you. You will have to do it yourself (DIY) based on the recommendations and instructions. The company continuously updates its recommendations to keep up with major search engines' guidelines whilst providing dedicated customer support from real SEO and Web Marketing experts.
Bluehost SEO Tools analyze a website and create a personalized marketing report divided into multiple categories:
Start:

The report begins with your overall score (the higher the score, the better), which is calculated with an algorithm that considers all aspects of your website that influence SEO. These include factors like popularity, number of visitors, mobile-friendliness, etc.

Search Engine Submissions:

Bluehost SEO Tools submit your site to major search engines (Google, Bing, and Yahoo). If your website is brand new, it will usually take some time for your site to be found- from a couple of days to a month or even longer.

Visitors:

Keep track of the number of visitors you have and where they come from. Some sites, mostly new, may take a while until they have enough visitors to display any data.

Rankings:

You can see how your site is ranking and how well you are doing on the keywords you are tracking and compare this to your competitors by toggling the Competitor button.

Site Review:

It lets you know if your site has any technical issues that you should be aware of. Additionally, Bluehost SEO Tools provide recommendations.

Search Optimization:

It tells how friendly your site is to search engines and whether your titles, links, and meta-descriptions are in order.

Content:

Bluehost SEO Tools analyze your content and give tips on what to improve

Mobile:

SEO tools analyze your site and let you know whether it's responsive and loads fast enough on mobile devices

Popularity:

It is measured by the number of links from other sites to your website (the more the link from other places, the more visitors you get).

Social Media:

Bluehost SEO Tools measure the social presence of your website.
Bluehost SEO Tools Start to plan for beginners costs USD1.99 per month and is billed annually at USD23.88/yr. You can add it as an add-on during the signup process or remove it if you don't intend to purchase it.
Note-(prices are mentioned as per the date when the article is written)
Further, there is a Grow plan for those looking to elevate their SEO strategy. The plan provides a custom SEO plan that includes step-by-step instructions to improve and an all-in-one dashboard to monitor the website's performance.
Bluehost pros and cons
Like all other web hosts, Bluehost also has both pros and cons.
Pros
Multiple affordable plans:

From an individual who desires full functionality on a small budget to businesses looking to build and grow a professional website, Bluehost hosting packages are designed to fit all customers' varying needs. The company offers multiple plans to suit the needs of beginners, professionals, and in-betweens, with the cheapest planning starting at USD2.95/mo. Most importantly, the company provides a 30-Day Money-Back Guarantee. If you feel the hosting services aren't a good fit at any point in your first month of usage, the company promises to refund the hosting costs.

Easy to use Bluehost dashboard

makes it easy to manage a website- from tracking visitor analytics to user comments and other things happening on a site. The company has also updated its

control panel (

c-panel) for simplicity and ease of use.

Recommended by WordPress

: Bluehost has been a leading recommended hosting provider for WordPress since 2005. When you sign up for a web hosting account with Bluehost, you are automatically connected to the latest version of WordPress with up-to-date features.

24/7 Customer Support:

Whether you are looking for the right hosting plan for your website or need additional support with the design or functionality, Bluehost experts are always available to help through each step of the website building process. The company also offers additional professional services like

Blue Sky

, a great add-on service for anyone looking for direct access to Bluehost's team of WordPress experts who are skilled in design, marketing, and WordPress security practices, and

Full-Service Website Design

that provides you with a team of website builders to create a powerful customized WordPress website.

Advanced security:

Bluehost's all-in-one solutions make website protection and reliability easy with free SSL, malware detection, automated security updates, and 24/7 expert support.
To know the pros and cons of each type of hosting and which form will be best for your site, read our previous post on"Top 10 Best Web Hosting for Small Businesses".
Cons
Renewal rates are high

: Though Bluehost offers cheap hosting plans initially, the renewal rates are significantly higher. For instance, the basic shared hosting plan, which starts at USD 2.95/month for a 36-month term, will renew at USD7.99/month after the term's expiry. Here's what the company's hosting renewal FAQ page says about the higher renewal rates- "We understand that it's confusing to move to a higher payment when you renew. If your renewal price is higher, it's because we offered a promotion for your initial plan term. That promotion was for a limited time and isn't valid for renewals."

Upselling add-ons

: Apart from the main package, Bluehost also offers optional add-on products and services that are checked by default during the signup process. For instance, SiteLock Security, single-domain SSL, Codeguard Basic, Bluehost SEO tools are included as extras with the standard VPS hosting package. If you want to keep costs down, remember to uncheck the add-ons; else, they will shoot up the price.
Image: A screenshot of the Bluehost sign up page with package information and package extras (add-ons)
Conclusion
Bluehost is undoubtedly an ideal host for beginners and small businesses who desire full functionality on a small budget.
It is also one of the best web hosting service provider when it comes to hosting WordPress sites. To sum it up, Bluehost is a budget-friendly and reliable web hosting service provider.
Also Read:-