As there is an all-round emphasis on the transition from fossil-based energy sources to clean energy sources like solar and wind energy, Fadi Maalouf and Paul van Son present an analysis of 'Desert Power 2030' on how the Middle East and North African (MENA) region traditionally considered a hub of fossil-based hydrocarbon is gradually moving towards clean energy.
The Desertec vision that the deserts of MENA will deliver enough electricity to cover the demand of their own population and to power up to 15% of European demand started as a dream ten years ago. To date, we call that the 'Desertec 1.0 Idea'.
Desertec evolved through the industry initiative Dii to 'Desertec 2.0' focusing primarily on regional solar and wind projects and grid extensions. Recently the Dii industry movement expanded to a more global approach, including not only 'green electrons', but also 'green molecules', e.g. hydrogen, or synthetic methanol of ammonia produced from solar and wind energy. Desertec is, thus, being transformed into a holistic and pragmatic 'Desertec 3.0'. Today we know that the desert regions will swiftly become the powerhouses for emission-free energy if public and private stakeholders are determined and find to each other.
From 'Desertec 1.0' to 'Desertec 3.0'
Dii has issued its ground-breaking publication 'Desert Power 2050'. More recently, the Dii Toolkit Initiative was launched. This includes practical guidance for project developers. Dii in cooperation with SGCC/CEPRI, GEIDCO and The Gulf Cooperation Council Interconnection Authority (GCCIA) conducted an indicative study on the integration of large scale PV into the regional interconnected grid including the extension of a key connection to a remote power market. The question was how to integrate 1 GW solar PV plant (phase 1). The analysis included: environmental, social, economic, and energy security benefits. A cable study connecting the UAE with India gave better insight into the potential of synergies with foreign markets.
Interconnections in other parts of MENA are also gaining momentum. Morocco has been a first mover for about 20 years, connecting to Spain. In Tunisia, the ELMED Interconnector is being revived. The interconnector will link Tunisia to Italy via Sicily through 600 MW HVDC. Another proposal is the interconnector between Egypt and Greece via Cyprus and Crete of 1,707 km up to 2 GW.
Why migration to Desertec 3.0?
The focus on power production is no longer sufficient, as the transition from dispatchable fossil generation to volatile solar and wind generation requires a total value chain approach from flexible demand, storage and transportation to small, medium and large volatile generation. Recently the route via so-called 'green molecules' ('power-to-X') has come onto the radar of the international energy community. Such molecules can often be produced, transported, stored and consumed more easily and economically than electrical power. These two roads do not exclude each other, but may be complementary and in some places in competition with each other.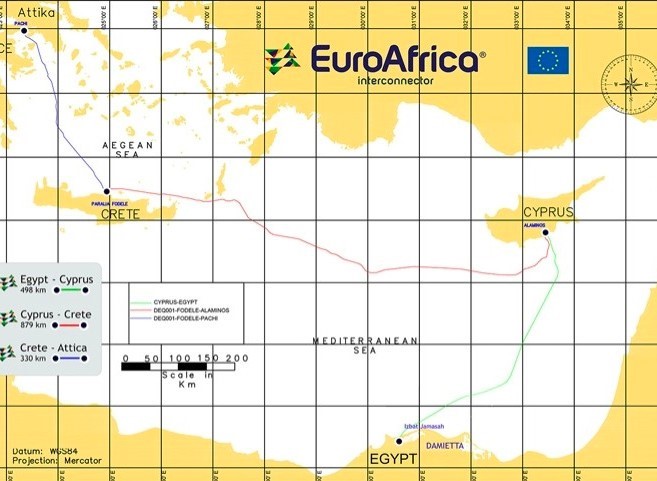 MENA to become a global powerhouse
The initial wave of 'Desertec', which started about 10 years ago in Europe has been almost transformed by the stakeholders in the MENA region to 'Desertec3.0'. With the massive deployment of more than 10 GW of operational renewable energy projects (mainly wind & solar), this development happened much faster than the greatest optimist would have expected only a few years ago. While a further 10 GW is in the near term pipeline and expected to be operational in the next two years, new market segments like net metering and projects with private off-takers are fast emerging. Full benefits for the region can now be captured, both as a master in the local and global energy markets and by growing local industrial activities and jobs. Desertec 3.0 may ultimately transform fossil markets.
(Fadi Maalouf is CTO and Paul van Son is CEO of Desertec Industry Initiative (DII), an institutional supporter of the 24th World Energy Congress 2019)
For more news, views and interviews please visit LIVE DISCOURSE
DISCLAIMER: Except for the headline and minor editing, this write-up has been published from 'The 24th World Energy Congress Preview'. Devdiscourse is Media Partner of World Road Congress 2019 being organized in Abu Dhabi on 9-12 September 2019.
(Disclaimer: The opinions expressed are the personal views of the author. The facts and opinions appearing in the article do not reflect the views of Devdiscourse and Devdiscourse does not claim any responsibility for the same.)