Karnataka: CM Siddaramaiah Cabinet gives in-principle approval for party's 5-Guarantees
The chief minister was addressing the media about the decisions taken in his first cabinet meeting after assuming office.
---
ANI
|
Updated: 21-05-2023 07:44 IST | Created: 21-05-2023 07:44 IST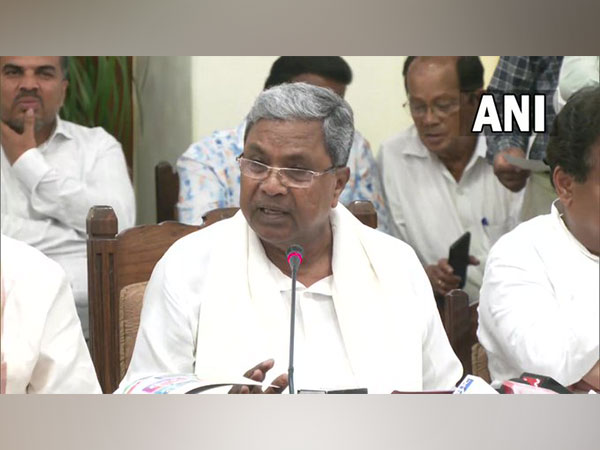 ---
Karnataka Chief Minister Siddaramaiah on Saturday said that as promised, the Congress government has in principle approved the 5 Guarantees announced in the party's manifesto before the elections. The chief minister was addressing the media about the decisions taken in his first cabinet meeting after assuming office.
It is estimated that Rs 1200 crore is required to implement Griha Jyoti scheme, to provide 200 Unit free power to every household. Rs 2000 per month will be transferred to the head woman of the family, 10 kg rice will be given under Anna Bhagya and Rs 3000/month will be given to unemployed graduates and Rs 1500 to diploma holders who have passed out during the current educational year for up to 2 years. Women, who are residents of the State would be given free bus pass to travel in Government Buses, he informed. Guidelines are being worked out in detail and will be discussed in the next cabinet meeting, he said, adding that Cabinet has also decided to convene a legislature session from May 22 to 24, and the Budget will be presented in July.
According to preliminary estimates, Rs 50,000 crore is required annually to fulfill the 5-guarantees, he said. Chief Minister also added that information about Indira canteen is also being sought and they would be started soon. The newly sworn-in CM said that during the previous term, "We had fulfilled 158 out of 165 promises made in the Election Manifesto. We have kept our promises. Along with fulfilling the promises, we have implemented more than 30 new schemes such as Indira Canteen, loan waiver, Vidya siri, Shoe Bhagya, Pashu Bhagya etc., which were not included in the manifesto."
"Opposition is misleading the people by stating that the Guarantee schemes we announced will make our state reel under huge debt and Prime Minister himself has stated in his Mann Ki Baat that the economy will collapse and State will incur huge debts by launching such schemes. But according to our calculations, Rs 50,000 crore is required annually to implement these schemes and it is not impossible to mobilise resources," the CM said. The State budget size is Rs 3.10 lakh crore and it increases by around 10 per cent every year. "We will present a 3.25 lakh crore budget in July. We will mobilise the additional Rs 15,000 crore by taking stringent measures to collect taxes," he said.
It is stated that a mere Rs 50,000 crores have been allocated by the 15th Finance Commission in this year's budget, whereas "we were entitled to get Rs 1 lakh crore from the Central Government." The previous Government lacked the will to get the State's share of grants from the Central Government. Karnataka contributes Rs 4 lakh crore in taxes annually, he explained. The previous Government and the MPs of the State have failed to get the special Grant in Aid of Rs 5495 crores, recommended by the 15th Finance Commission in its interim report, he said.
CM recalled when former PM Manmohan Singh left office, the debt of the country was Rs 52,11,000 crore. "Today it has been increased by Rs 155 crore. During the last 9 years Rs 102 lakh crore has been borrowed by the Government of India. By the end of our previous tenure in 2018, the debts of the State were Rs 2,42,000 crore. Our Government had borrowed Rs 1,16,000 crore during 5 years. But in 2023-24, the borrowings have increased to Rs 5,64,000 crore. During the 4 year tenure, BJP Government has borrowed Rs 3,22,000 crore. Our Government will ensure that all the guarantee schemes and other programmes will be implemented without causing a financial crunch to the State exchequer," he said.
During 2023-24, Rs 56,000 crore is required to repay the interest and principal amount of the debts, he said. Chief Minister was confident of launching new programmes, without affecting the economy, by taking stringent measures such as efficiency in tax collection, controlling unnecessary expenditure, avoiding borrowings etc.
Siddaramaiah on Saturday took oath as the chief minister of Karnataka and DK Shivakumar as his Deputy chief minister. Congress bagged 135 seats in the May 10 elections to the 224-member Karnataka Assembly ousting the ruling BJP, which got 66 seats while the Janata Dal (Secular) secured 19 seats in the results declared on May 13. (ANI)
(This story has not been edited by Devdiscourse staff and is auto-generated from a syndicated feed.)