Asia's largest tulip garden in Kashmir ready to welcome visitors from March 19
---
PTI
|
Srinagar
|
Updated: 12-03-2023 11:51 IST | Created: 12-03-2023 11:35 IST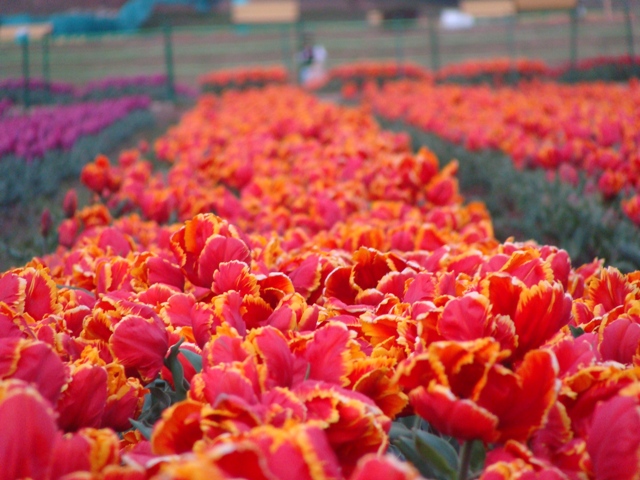 ---
The Indira Gandhi Tulip Garden, Asia's largest tulip garden, ensconced between Dal Lake and the Zabarwan hills here is in full bloom and ready to welcome tourists form next week.
''Preparations like gardening, engineering, fungicide treatment, nutrient spraying and minor repair which we do before the tulip show are going on,'' Inam-ul-Rehman, in-charge of the tulip garden, told PTI.
The garden, a well-known landmark, will be open to the public from March 19.
Besides 1.5 million (15 lakh) tulips of various colours and hues, the garden, also known as Siraj Bagh, will have other spring flowers, such as hyacinths, daffodils, muscari and cyclamens, on display.
''Every year we expand this garden and new varieties are here. This year we have extended the fountain channel.... It should set an example of gardening professionalism across the globe,'' Rehman said.
He said there will be a rainbow of tulip colours this year, including yellow, red, crimson, purple and white.
''The shadow of the Zabarwan mountains gives a good ambience to this garden. That is why people like this garden,'' he added.
Mushtaq Ahmad Mir, the supervisor of the garden, said preparations for the tulip garden are at their peak as it is expected to open next Sunday.
Expecting a heavy footfall of visitors at the garden this season, Mir said, ''Work is going on day and night. We have a heavy flow of inquiries from outside Kashmir regarding the opening of the garden.'' ''Last year, it was a good season here as we had two lakh visitors and we hope it will be better this time,'' he said. Formerly known as Siraj Bagh, the Indira Gandhi Memorial Tulip Garden was opened in 2008 by then chief minister of Jammu and Kashmir Ghulam Nabi Azad.
Azad had conceived the idea to bridge the lean tourist arrival period between the winter and summer seasons in the valley.
While the tulip bloom remains from three to five weeks only, it is hard work for the ground staff throughout the year to ensure that the quality of the bulbs is maintained year after year.
''We are busy round the year in preparing the garden for the bloom period in March-April. Then we examine the tulips to check for diseases. In May and June, we start harvesting, which takes three months,'' Mir said.
Digging up the soil and adding fertilisers is done in October. ''In November, we sow tulip bulbs. Throughout the year the gardeners stay busy with this,'' Mir added.
Mohammad Maqbool, one of the gardeners, said tulips are very delicate flowers and bloom only at low temperatures.
''Tulips are very delicate flowers. They cannot survive in hot temperatures and bloom only in low temperatures,'' he said.
Ghulam Hassan, the head gardener, said, ''This garden is spread over 1,050 kanals (52.5 hectares. It started with 50,000 tulips, then 3.5 lakh tulips and now, we have 15 lakh flowers,'' he said.
Hassan wants more and more people to visit the garden.
''We request the people here and outsiders to visit this garden. On March 19, it will be thrown open to the public,'' he said.
(This story has not been edited by Devdiscourse staff and is auto-generated from a syndicated feed.)