Google Doodle commemorates Uruguay Independence Day 2023
---
Devdiscourse
|
Montevideo
|
Updated: 25-08-2023 13:01 IST | Created: 25-08-2023 13:01 IST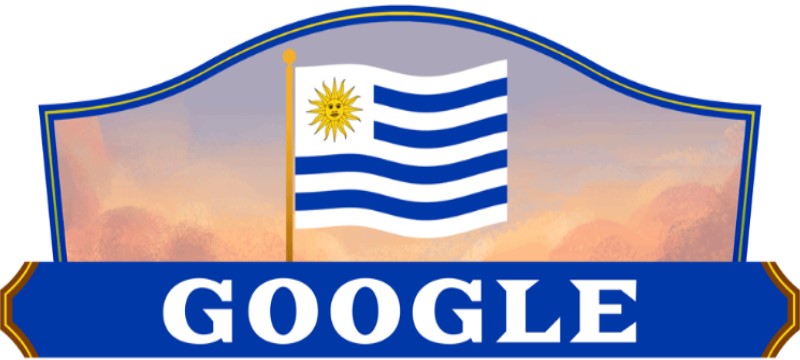 ---
Montevideo, August 25, 2023 - In a vibrant display of national pride, Google's latest Doodle honors Uruguay Independence Day today. This special occasion marks the historic moment in 1825 when Uruguay asserted its sovereignty, liberating itself from Brazilian rule.
The festivities are preceded by a cherished tradition known as the Night of Nostalgia ("Noche de la Nostalgia"), where the air is filled with the tunes of yesteryears - classic pop, rock, and disco hits resound in dance halls and radio stations throughout the nation.
As the sun rises on Independence Day, Uruguayans come together to revel in an array of festivities. Commemorative events, patriotic ceremonies, breathtaking firework displays, and heartfelt renditions of the national anthem echo from city to city. Interestingly, Uruguay boasts the world's longest national anthem, a testament to its rich history and enduring spirit.
The Google Doodle portrays the Uruguayan flag fluttering proudly against the sky, a symbol of the sacrifices made by past generations in the pursuit of freedom. Families and friends unite to celebrate their hard-won independence, rekindling their commitment to a brighter future for their homeland.
The name "Uruguay" itself has roots in the Indigenous Guaraní language, derived from "bird-river" or the river snail "uruguá," which once populated its shores.
A Glimpse into Uruguay's Struggle for Independence
The journey to freedom was marked by pivotal moments and the unwavering determination of Uruguay's national hero, José Gervasio Artigas. In 1811, Artigas led a successful revolt against Spanish authorities, culminating in the decisive Battle of Las Piedras on May 18th. Artigas later championed federalism and autonomy, a stance that led to conflict with Buenos Aires' unitary centralism.
In a turn of events, Artigas laid siege to Montevideo, ultimately capturing the city in 1815. This paved the way for the Banda Oriental to establish its own autonomous government. While struggles persisted, including a Portuguese invasion from Brazil, the indomitable spirit of the Thirty-Three Orientals prevailed. Their declaration of independence on August 25, 1825, with the support of the United Provinces of the Río de la Plata (present-day Argentina), ignited the 500-day-long Cisplatine War. This intense conflict culminated in the Treaty of Montevideo in 1828, expertly facilitated by the United Kingdom's diplomatic endeavors, leading to the birth of modern-day Uruguay as an independent nation.
Happy Independence Day, Uruguay!
Also Read: Google Doodle pays tribute to Habib Benglia, pioneering French actor, on his 128th Birthday