Trump blasts federal indictment as ''ridiculous'' and ''baseless'' in speech to Republicans in Georgia
---
PTI
|
Columbus
|
Updated: 11-06-2023 03:11 IST | Created: 11-06-2023 02:57 IST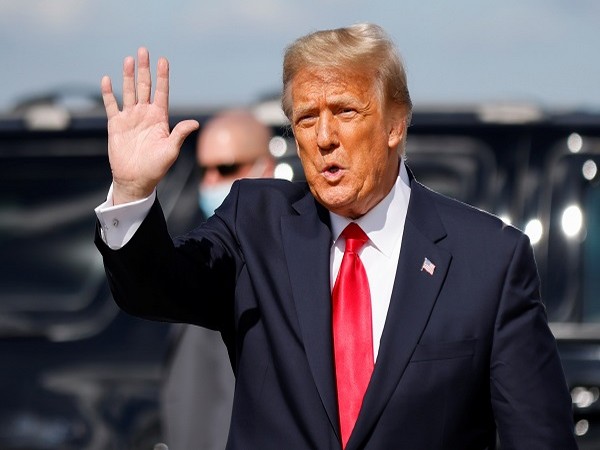 ---
Former President Donald Trump blasted his historic federal indictment as "ridiculous" and "baseless'' on Saturday during his first public appearance since the charges were unsealed, painting the 37 felony counts as an attack on his supporters as he tried to turn dire legal peril to political advantage.
Speaking at a Republican state convention in Georgia, Trump cast his indictment by the Department of Justice as an attempt to damage his chances of returning to the White House as he campaigns for a second term.
"They've launched one witch hunt after another to try and stop our movement, to thwart the will of the American people,'' Trump alleged, later telling the crowd that, ''In the end, they're not coming after me. They're coming after you." The strategy is a well-worn one for Trump, who remains the front-runner for the 2024 GOP nomination despite his mounting legal woes, which also include criminal charges filed against him in March in New York. Again and again, in the face of investigation, Trump has tried to delegitimize law enforcement officials and portray himself — and his supporters — as victims, even when he faces serious charges.
The indictment unsealed Friday charges Trump with willfully defying Justice Department demands to return classified documents, enlisting aides in his efforts to hide the records and even telling his lawyers that he wanted to defy a subpoena for the materials stored at his residence.
The indictment includes allegations that he stored documents in a ballroom and bathroom at his Mar-a-Lago resort, among other places.
For all that, Trump was given a hero's welcome at the party convention in Georgia, where he drew loud applause as he slammed the investigation as "a political hit job" and accused his political enemies of launching "one hoax and witch hunt after another" to prevent his reelection.
"The ridiculous and baseless indictment by the Biden administration's weaponized Department of Injustice will go down as among the most horrific abuses of power in the history of our country,'' he said.
He also used his remarks to rail against President Joe Biden and his 2016 Democratic rival, Hillary Clinton, accusing them of mishandling classified information and insisting he was treated unfairly because he is a Republican. But Trump overlooked a critical difference: Only he has been accused of intentionally trying to impede investigators by not returning the classified documents.
In the Clinton probe, for instance, FBI investigators concluded that although she was extremely careless in her handling of classified emails on a private server, there was no evidence that she intended to break the law. And though the Biden investigation is still ongoing, no evidence has emerged to suggest that he intentionally held onto the records or even knew that they were there, with his representatives turning over records after they were discovered and voluntarily consenting to FBI searches.
Trump also lingered on Georgia's role in his 2020 defeat, repeating his lies that he had won the state and defending his efforts to overturn Biden's victory, which is now the subject of an investigation by Fulton County District Attorney Fani Willis. She has suggested that any indictments would likely come in August.
At the heart of the investigation is a recorded phone conversation in which Trump urges Secretary of State Brad Raffensperger to "find 11,780 votes" — just enough to overtake Biden and overturn Trump's narrow loss in the state.
Despite the latest criminal charges, attendees cheered him on in Georgia and eagerly awaited his arrival in North Carolina, where he will speak at the party's convention Saturday evening.
About 100 supporters, some waving "Witch Hunt" signs, showed up to the Columbus, Georgia, airfield to greet Trump as he arrived. Jan Plemmons, 66, wearing an oversize foam "Make America Great Again" hat, called the federal charges "absolutely ridiculous" and said she was ready to campaign with Trump. To Michael Sellers, 67, it was "criminal what they're doing to him.'' After his speech, Trump stopped by a local Waffle House, where he signed autographs, posed for photos and chatted with supporters.
The indictment arrives as Trump is continuing to dominate the primary race. Other candidates have largely attacked the Justice Department — rather than Trump — for the investigation. But the indictment's breadth of allegations and scope could make it harder for Republicans to rail against these charges compared with an earlier New York criminal case that many legal analysts had derided as weak.
Trump is due to make his first federal court appearance Tuesday in Miami. He was charged alongside valet Walt Nauta, a personal aide whom prosecutors say moved boxes from a storage room to Trump's residence for him to review and later lied to investigators about the movement. A photograph included in the indictment shows several dozen file boxes stacked in a storage area.
Among the various investigations he has faced, the documents case has long been considered the most perilous threat and the one most ripe for prosecution. But Trump's continued popularity among Republican voters is evident in how gingerly his primary rivals have treated the federal indictment.
Mike Pence, whose appearance in North Carolina marked the first shared venue with his former boss since the ex-vice president announced his own campaign this past week, condemned the "politicization" of the Justice Department and urged Attorney General Merrick Garland ''to stop hiding behind the special counsel and stand before the American people" to explain the basis for the federal investigation into Trump.
"A former president of the United States facing an unprecedented indictment by a Justice Department run by the current president of the United States and a potential political rival,'' Pence said to loud applause. Pence said it was important to hear Trump's defense, "then each of us can make our own judgment. ... Be patient. Know that we will soon know the facts." At the North Carolina GOP gathering Friday night, Florida Gov. Ron DeSantis, Trump's leading GOP rival, didn't mention Trump by name but compared his situation to that of Clinton.
"Is there a different standard for a Democratic secretary of state versus a former Republican president?" DeSantis asked. "I think there needs to be one standard of justice in this country. ... At the end of the day, we will once and for all end the weaponization of government under my administration." Among the declared Republican contenders, only Arkansas Gov. Asa Hutchinson has explicitly called for Trump to end his candidacy. Hutchinson told reporters in Georgia that the Republican Party "should not lose its soul" in defending Trump and said the evidence so far suggested that the former president treated national secrets "like entertainment tools."(AP) RUP RUP
(This story has not been edited by Devdiscourse staff and is auto-generated from a syndicated feed.)