Future of African agriculture: How tech-driven transformation is changing the landscape?
Renu Mehta
|
Updated: 27-07-2019 00:25 IST | Created: 26-07-2019 23:29 IST
---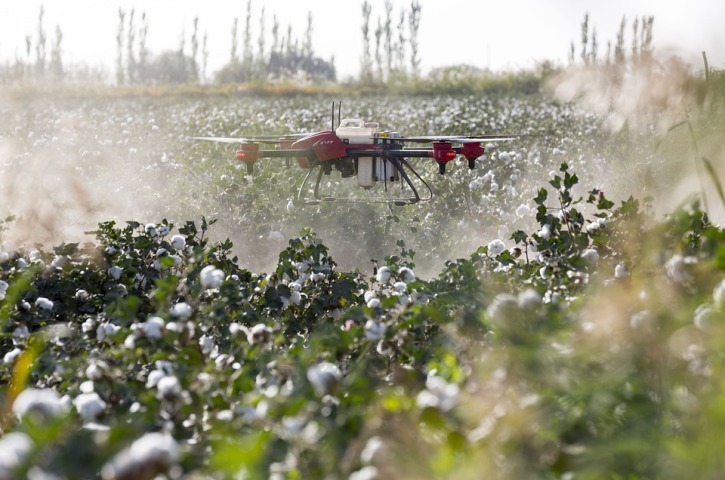 Agriculture forms a significant portion of all African economies, contributing 32 percent of the continent's total GDP and employs as much as 65 percent of Africa's labor force. More than half of Africa's workforce relies on the agricultural sector for livelihoods, income, and employment, especially in family farming.
Why African agriculture needs tech-driven transformation?
Climate change, unemployment, rapid population growth, poverty, and hunger are the top challenges that the continent is facing today. Africa is one of the world's richest continent when it comes to natural resources but the poorest in terms of GDP. According to the World Bank estimates, Africa's working-age population is expected to grow by 450 million people by 2035 but the continent will likely produce only 100 million new jobs during that time. So the question is how will Africa feed 1.5 billion people by 2030 and 2 billion by 2050?
Technology is the answer and countries have already begun the work. Agriculture coupled with technology has huge potential not only to feed the growing population but also to generate employment for African youth and achieve sustainable development.
Last week, the EU-funded Technical Centre for Agriculture and Rural Cooperation (CTA) launched a new report that focuses on the digitalization of African agriculture. Titled 'Digitalisation of African Agriculture Report', it calls for the right policy focus and investment for inclusive and sustainable development. According to the report, there has been significant growth in digitalization for agriculture (D4Ag) i.e. use of innovative digital technologies and data to transform business models and practices across the agricultural value chain, over the past decade. According to the report:
Climate change is making farmers more vulnerable. As a result, sub-Saharan Africa will have to suffer 22 percent yield losses by 2050
Each year 12 million youth enter the workforce in Africa, but only one in four gets successful in finding a job
90 percent of the market remains untapped
The reach of digital solutions will continue to grow and may include as much as 80 percent of the smallholder farmer population.
Most farmers are expected to have access to a mobile phone by 2030
Video credit: CTA
How agri-tech is reshaping Africa's agricultural landscape?
Over the past few years, agriculture in Africa has undergone a dramatic transformation, thanks to affordable and accessible technologies. Technology is not just confined to Information and communications technology (ICT) services, it is interlinked with something that can act as a game-changer to outplay the traditional tools employed in this sector. Smartphones, IoT, blockchain, artificial intelligence for smart prediction, data analytics, remote sensing have significantly improved productivity, cost-efficiency, and market opportunities for small to big farmers.
Let's understand through real-life examples that how innovative digital tools are powering African farmers:
Mobile applications like M-Farm provide pricing data to remove price asymmetry between farmers and buyers, making it possible for farmers to earn more. It connects smallholder African farmers with urban and export markets via SMS and a web-enabled marketplace.
Zenvus, an intelligent solution that uses electronics sensor, measures, and analyses soil data such as temperature, nutrients, and vegetative health to help farmers apply the right fertilizer and optimally irrigate their farms. The smart solution records all phases of farming from planting through harvest to sales.
Video Credit: Zenvus
Farmers often lack access to credit, in particular, smallholder farmers. For example, over 90 percent of sub-Saharan Africa's 48 million smallholder farmers lack access to formal credit. FarmDrive, a farm management application developed by a Kenyan startup, helps farmers keep records and track their farming activities. Using this app, farmers can apply for a loan and financial management tools, just through a mobile phone. It uses phone alternative data and machine learning to close the critical data gap that prevents financial institutions from lending to creditworthy smallholder farmers.
The Food and Agricultural Organization (FAO) together with the International Telecommunications Unit (ITU) has developed a new livestock-tracking blockchain system (distributed ledger system) for smallholder pig farmers. The tracking system uses radio-frequency identification (RFID) tags and a smartphone app to keep digital records of how farmers raised their pigs.
Agricultural robots or agbots and drones are helping farmers detect weeds and diseased crops, gauge post-disaster damage, assess soil quality and estimate how much fertilizer they need to use to improve crop productivity. Drones or unmanned aerial vehicles (UAVs) have emerged as potential game-changer for precision agriculture as they are time and cost-effective and provide real-time data and high-resolution imagery.
The Water Productivity Open-access Portal (WaPOR), a portal developed by the FAO to monitor Water Productivity via Open-access of RemotelDrones or unmanned aerial vehicles (UAVs) have emerged as potential game-changer for precision agriculture as they are time and cost-effective and provide real-time data and high-resolution imagery.y sensed derived data helps to monitor water productivity, identifying water productivity gaps, propose solutions to reduce these gaps and contributing to a sustainable increase of agricultural production. The publicly accessible near real-time database portal is already being used in many African countries including South Africa, Mali, Niger, Kenya. Watch the video to know how it works.
Video Credit: YouTube / FAO
Every year, Fall Armyworm, a fast-spreading crop pest in sub-Saharan Africa, infects millions of hectares of maize in Africa. To curb its spread, the United Nations' Food and Agriculture Organization and Pennsylvania State University last year developed Nuru, an innovative talking app, based on machine learning and artificial intelligence. It runs on a standard Android platform without internet. Farmers can immediately confirm damage to crops by holding an android phone with the app installed next to an infested plant.
What lies ahead?
Africa has already begun the race for a tech-driven agricultural transformation, but to unlock its full potential much more work needs to be done. As the internet and smartphone penetration increases, so will the adoption of innovative tools. Possible steps and future work may include:
Analyzing potential challenges and opportunities
Tailoring technologies for maximum youth engagement in the agri sector
Equitable and affordable resources for all
Promoting digital literacy and digital skills training
Fostering entrepreneurial culture
Well-developed IT infrastructure for easy access to technologies
Bridge digital divide
Data ownership regulations
Investing in research and development
(Disclaimer: The opinions expressed are the personal views of the author. The facts and opinions appearing in the article do not reflect the views of Devdiscourse and Devdiscourse does not claim any responsibility for the same.)
---
FIRST PUBLISHED IN:

Devdiscourse