Splendid initiative by IMA-Delhi North Zone on Doctor's Day wins all round accolades
Indian Medical Association- Delhi North Zone, a considerably big branch of IMA with a membership of more than 2000 Doctors of Modern Medical System recently celebrated this year"s Doctor's Day with a splendid initiative by organizing a mega Blood Donation and a Free Health Check up camp at KU-JU Block- Shiv Temple in Pitampura, Delhi on 2nd July 23.
---
ANI
|
New Delhi
|
Updated: 17-07-2023 15:29 IST | Created: 17-07-2023 15:29 IST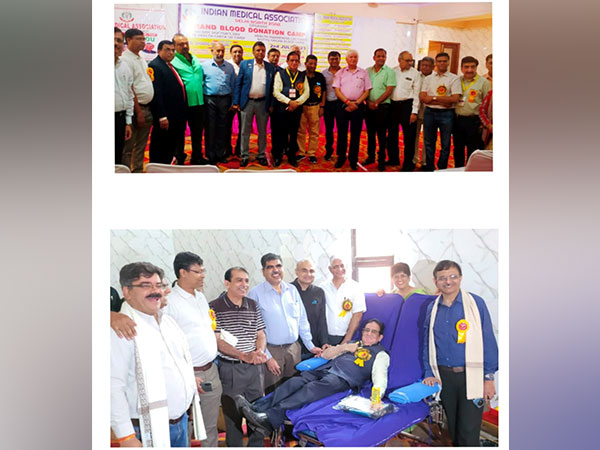 ---
ATK New Delhi [India], July 17: Indian Medical Association- Delhi North Zone, a considerably big branch of IMA with a membership of more than 2000 Doctors of Modern Medical System recently celebrated this year"s Doctor's Day with a splendid initiative by organizing a mega Blood Donation and a Free Health Check up camp at KU-JU Block- Shiv Temple in Pitampura, Delhi on 2nd July 23.
This remarkable initiative by IMA- DNZ won many hearts and all round accolades, and added another feather in its golden cap. The Blood Donation & the Free Health Check up Camp was followed by a Public Health Awareness Talk by Healthcare Specialists from different fields.
Another key highlight of the event was the highly motivational and informative speech by Dr. Anil Kumar Addl DDG, DGHS &  Director, NOTTO who inspired the august gathering to pledge their organs after death in the larger interest of serving humanity. The event was graced by the presence of many NGOs including North Delhi Physician Forum, Pitampura Club, Engineer's Club Regd. Delhi, Gangotri Charitable Trust Haridwar, Lion's Club (Delhi City), Dadi Ji MitraMandal,  Varishth Nagrik Manch GP/FP Block, Varishth Nagrik Care Society, Varishth Nagrik Manoranjan Kendra, Ganga Jamuna Steel Pvt Ltd, VP, DU, BU & KU Block Resident  Welfare Associations (RWA's).
The large gathering of various RWA's in the event gave a big fillip to the cause of the community movement. For the benefit of the needy persons, ample arrangements were made for the General Physical Examination under the able supervision of many Specialists of their respective fields namely Cardiologists, Physicians, Eye Specialists, Skin Specialists, Surgeons, Gynaecologist & Dietitians.
Free check up of BP, Blood Sugar, HbAic, TSH, Haemoglobin, Bone Marrow Densitometery, Nerve Conduction tests & ECG too were conducted for those present. The lectures on various Health Awareness aspects by eminent specialists evoked an overwhelming response from the attendees.
The official function commenced at 9.30 am with the traditional lamp lighting ritual. The Chief Guest of the event was IMA National President Dr Sharad Aggarwal who enlightened the large gathering with many vital aspects of Modern day Healthcare System.
In his brief speech on the momentous occasion of Doctor's Day, National IMA President urged Society members to respect Doctors and promote Organ Donation. Dr Sharad Aggarwal shared, "Doctor's Day has immense significance as it is a tribute to the remarkable contributions of Dr Bidhan Chandra Roy, a dynamic leader in the Healthcare system. The IMA is committed to give back to society, and I wish to emphasize upon the relaunch of the 'Aao Gaon Chalein' Campaign on June 25th. National IMA Team, led the campaign in Gandhinagar, which reached out to 1700 branches of the IMA. The Blood Donation Camp organized by IMA- Delhi North Zone is a commendable initiative. As regards the key accomplishments of the IMA are concerned, it has played a pivotal role in addressing HIV/AIDS in India during the late 90s and early 2000s. Despite initial fear among doctors about treating AIDS patients, the IMA sensitized and educated healthcare professionals on proper treatment."
Addressing the issue of Tuberculosis, Dr Aggarwal said, "The IMA is striving to eliminate TB by 2025, earlier than the previously set goal of 2030, even without government support. The IMA played a remarkable role during the Covid-19 Pandemic when doctors and healthcare workers risked their well-being to save people's lives. We pay our homage to 2000 healthcare workers who lost their lives. India in specific, was recognised globally for it's management of the Pandemic." Speaking to the Media, renowned Medico Social Activist Dr Naresh Chawla, Chief Organizer of the Blood Donation Camp, and former President of Delhi Medical Association and  IMA-DNZ said, "I express deep gratitude to the Media for raising the pertinent issue of vandalism and attacks on Doctors and Healthcare Specialists. Doctors are trained to serve the community with a healing touch. The Media has to play the important role of sensitizing the society about the realities of medical outcomes, and we must all strive to bring an end to the violence against doctors. There's nothing more nobler than donating blood for the cause of humanity. I have been organizing blood donation camps since the past many years, and I have myself been a regular blood donor in these camps."
In his address, Dr Anil Kumar, Director, National Organ & Tissue Transplant Organisation (NOTTO) debunked myths surrounding organ donation and highlighted the significant gap between organ demand and supply. Dr Anil said, "To raise public awareness about organ donation, the IMA is organizing a "Mammoth Walkathon" on August 3rd, observed as 'Organ Donation Day'. Organ Donation is a real noble deed and we must come forward to pledge our organs."
Dr H N Gangwal, President, IMA-DNZ reiterated the social role of a doctor apart from his role as Clinician, in various aspects of public life. Speaking on the occasion, Dr Praveen Bhatia, Consultant Physician & Diabetologist informed, "There has been an alarming rise in non-communicable diseases such as hypertension and diabetes in India. This trend is attributed to sedentary lifestyles, excessive consumption of junk food, alcohol, smoking, and lack of physical activity. It's time to return to basics such as engaging in outdoor sports, and adopting healthy eating habits. Blood pressure is known as a "Silent Killer" as many times there are no symptoms. However, there are many causes that lead to blood pressure such as smoking, alcohol consumption, lack of proper sleep, hereditary factor etc.
While we cannot change genetic factors, we can always reverse other negative factors. It is a cause of concern that we have all become addicted to modern-day gadgets and gizmos, thus it is advisable that we should stay away from mobile phones, atleast one hour before going to sleep if we wish to keep our blood pressure under control. In hypertension, blood vessels become thick, mostly due to a high-cholesterol diet. It is important for everyone to regularly get their BP checked as its symptoms are detected much later when it is already too late. Some people get heart attack, and one common cause is high BP. More importantly, high BP can also lead to brain hemorrhage which at times can be fatal.
According to Indian Heart Study 2021, there will be 21.5 crore BP patients by year 2025. It is indeed alarming that 40% of youths are grappling with hypertension problem. I will thus appeal to citizens to quit smoking as it is life-threatening.
It is time for people to alter their lifestyle if they aspire to have their blood pressure under control. I will also advise people to not blindly follow the health-related information circulated on social media as it can sometimes be misleading."
Secretary General, IMA, Dr Anil Kumar Nayak, Municipal Corporator Amit Nagpal, DMC President Dr Arun Gupta, DMA President Dr Ashwani Dalmia and DMC Secretary Dr Girish Tyagi, were the Guests of Honour. The event was organized by the painstaking efforts of Dr H N Gangwal (President IMA-DNZ), Dr Rajat Aggarwal (Sec, IMA-DNZ), Dr Kishore Rajurkar (Finance Sec.) & Dr Naresh Chawla (Chief Organiser, Blood Donation Camp).
(Disclaimer: The above press release has been provided by ATK. ANI will not be responsible in any way for the content of the same)
(This story has not been edited by Devdiscourse staff and is auto-generated from a syndicated feed.)