Google doodle celebrates Saudi Arabia's 91st National Day!
---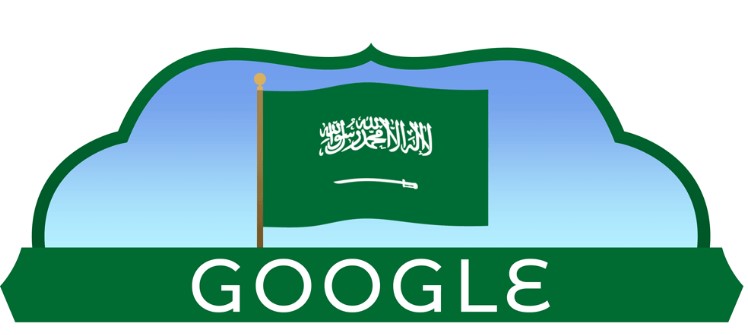 ---
Happy National Day, Saudi Arabia!
Google doodle on September 23, 2022, to celebrate the 91st National Day of Saudi Arabia. Saudi National Day (Arabic: اليوم الوطني للمملكة العربية السعودية al-Yawm al-Waṭanī lil-Mamlaka al-ʿArabiyya as-Saʿūdiyya) is celebrated in Saudi Arabia every 23 September to commemorate the renaming of the Kingdom of Nejd and Hejaz to the Kingdom of Saudi Arabia by royal decree of King Abdul Aziz Al Saud in 1932.
The day honors the unification of multiple groups across the Arabian Peninsula coming together under one banner. It was made a national holiday by King Abdullah in 2005. The numbers of lunar, not solar, years are commemorated.
A majority of countries, communities, and tribes in the Middle East were under the control of the Ottoman Empire until the end of World War I. King Abdul (also known as Ibn Saud, or Son of Saud) was the ruler of Nejd during this time. By 1925, he conquered and reclaimed several territories including his family's ancestral city Riyadh, the oasis region of Al-Hasa, and Hejaz (or western Arabia). He ruled over Nejd and Hejaz until 1932 when he unified both regions and renamed the greater nation, Saudi Arabia.
Saudi Arabians declared National Day a public holiday in 2007. However, celebrations have always occurred since the first year of unification back in 1932. The theme and identity for this year's National Day reflect the phrase "This is our Home". The tagline is launched in line with Saudi Arabia Vision 2030, a transformation project that aims to broaden the horizons of Saudi Arabia's economy, society, and national interests.
Every year, people enjoy light shows, airplane flyovers by the Saudi Hawks, and special deals at malls and other establishments. People also celebrated with folk dances, songs, and traditional festivities. Roads and buildings are decorated with Saudi flags, and people wear the national colors of green and white, and display balloons in the same. A fireworks display is also held at night to end the celebrations. Saudis can be seen holding their national flag, like the one waving in today's artwork.
Also Read: Google Doodle celebrates 96th birth anniversary of Bhupen Hazarika