Karnataka elections 2023: BJP 'confident' of winning majority; Congress says will see after results
Chief Minister Basavaraj Bommai on Friday exuded confidence and said that BJP will return to power in the state, while All India Congress Committee (AICC) President Mallikarjun Kharge said that they will see on Saturday after the results.
---
ANI
|
Updated: 13-05-2023 06:44 IST | Created: 13-05-2023 06:44 IST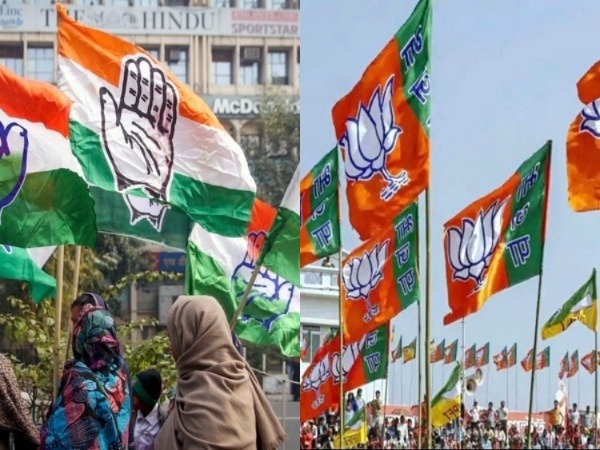 ---
Ahead of the counting of votes for the Assembly elections in Karnataka scheduled on Saturday, both the Bharatiya Janata Party (BJP) and Congress have rejected exit polls' prediction of a hung assembly and claimed of winning a majority and form their government in the state. Chief Minister Basavaraj Bommai on Friday exuded confidence and said that BJP will return to power in the state, while All India Congress Committee (AICC) President Mallikarjun Kharge said that they will see on Saturday after the results.
The Congress chief held a meeting at his residence in Bengaluru on Friday evening ahead of the counting day. "We will see tomorrow," Kharge said while speaking to reporters after the meeting. The Congress chief was commenting on a question about the BJP's claim of getting a majority and is still in touch with JD(S) as a backup plan. "Our party has the strategy of discussing things after meeting each other. If we tell you everything, what would remain?" he said. Earlier, General Secretary in-charge Communications Jairam Ramesh said that BJP's defeat in Karnataka will open Delhi's door for Congress in 2024.
Karnataka Pradesh Congress Committee (KPCC) DK Shivakumar after a meeting with party president Mallikarjun Kharge at his residence in Bengaluru, said, "Sometimes exit polls succeed and sometimes fail. Exit polls have their own theory; I don't believe them." "We don't go by those samples, my sample size is too high and in that, we will have a comfortable majority. We will form our government with a majority. I do not know about JD(S), let them take their own call. I don't have any backup plan, my only plan is that the Congress party will come to power," he told ANI.
DK Shivakumar had on Wednesday said that he did not believe in the exit poll results, which predicted a hung Assembly while putting his party ahead, adding that they will cross the 146-seat mark. Giving a further push to the KPCC chief's confidence, the party's senior leader Jairam Ramesh said, "Congress' victory in Karnataka is Prime Minister Narendra Modi's defeat because no one campaigned in Karnataka except him. After (BJP's) Karnataka's defeat, Delhi's door is open for Congress in 2024.
During the Bharat Jodo Yatra, we were there for 27 days in Karnataka and visited seven districts. We do not have any doubt. We will get majority votes. We have promised five guarantees in our manifesto and because of these guarantees Congress is guaranteed to win." He also ruled out the possibility of a coalition government in Karnataka with the JDS."I am absolutely sure that JDS will disintegrate... This time I do not think that there is any scope for a coalition government with JDS," Jairam Ramesh added.
The confidence in Congress is due to the exit polls which have given the grand old party a clear edge in Karnataka in the assembly elections held on Wednesday with four exit polls giving it a full majority and some predicting a hung assembly with an advantage to the party. However, a few exit polls also said that BJP is ahead in the sweepstakes to form the government. BJP is also fully confident of retaining power with an absolute majority, is also deliberating with its leaders at former Karnataka Chief Minister and tallest Lingayat leader BS Yediyurappa's residence.
Chief Minister Basavraj Bommai affirmed full confidence in the party getting a full majority in the elections. "There is no chance of a hung Assembly, we are going to form the government comfortably. I won't talk about other parties much. Everyone talks based on their assessments, and I have my own assessments," he said. Reacting to Karnataka Congress president DK Shivakumar's prediction of Congress winning the election, Bommai said, "Let him (DK Shivakumar) be happy with his 141 seats till tomorrow".
He further said that the Chief Minister's face of the party will be decided after a legislature party meeting. "We will have a legislature party meeting to decide the Chief Minister face," he added. On being asked about the Congress party's allegations of 'Operation Lotus' -- an alleged operation to poach the MLAs of a rival party - Bommai said, "We never did it. They were in power for a year, under the coalition, and they failed miserably. It's their doing of getting into unholy alliances".
BS Yediyurappa expressed confidence that the Bharatiya Janata Party would secure an absolute majority and return to power for a second term to form government in the southern state. Speaking to ANI, Yediyurappa said, "I am 100 per cent confident that the BJP will secure an absolute majority and form the government". Yeddyurappa's response came after exit polls predicted Congress's edge over the BJP in Karnataka polls.
The BJP leader refuted any possibility of a hung assembly. On a question about forming an alliance with JD(S), in case the party falls short of a majority, he said, "At that time, National leadership is going to take a decision. The question does not arise. I am certain that the party will get 115-117 seats". "All leaders worked hard. I am confident that the BJP will form the government. Let us wait and watch," the BJP veteran said.
Senior BJP leader V Somanna refused to comment on the exit polls. "I won't make any comments. Wait till the counting. Although, I am 100 per cent confident, but I will say only after the results come," he said. The voting for the assembly elections ended on Wednesday with a 69.95 voter turnout. The counting of the votes is scheduled to begin on Saturday at 08.00 am.
A party needs 113 seats for a majority in the 224-member Karnataka assembly. Congress leader and party president Mallikarjun Kharge's son Priyank Kharge also exuded confidence in the party's victory and slammed BJP leader R Ashok in his statement where he claimed that the party will form the government in the state, even if it a hung assembly.
"We are going to pass 120 seats. We are confident that the people of Karnataka have voted for a progressive and inclusive government. There is no question of a hung government, we are supremely confident that we will form the government on our own," he said. Slamming BJP leader R Ashok, Priyank Kharge said, "He made two things very clear. One: They (BJP) are not coming to power, which means people don't want them. Two: They will go to any extent to form the government, whether it is using CBI, ED, IT, throwing money or maybe even kidnapping people".
Congress spokesperson Randeep Singh Surjewala thanked the voters while saying that the party is win with a huge majority. "Congress party is going to win with a thumping majority. I also want to thank 6.5 crore brothers and sisters of Karnataka. They have ensured that the festival of democracy is celebrated. The biggest winners of this election are 6.5 crore Kannadigas. We will serve the people of Karnataka," he said. Earlier on Thursday, former Chief Minister Siddaramaiah expressed gratitude to the party workers for working relentlessly during the election campaign and hoped that their struggle will "definitely bear fruit", as the exit polls gave an edge to the grand old party.
"I have a special appeal to our party workers: You have left home and family to work for the election. Now take some time off and spend time with your parents, wife and children. Our honest struggle will definitely bear fruit. Thanks again and best wishes to you all," Siddaramaiah tweeted. The Congress leader contested from the Varuna Constituency. "Proud workers and fans of Congress Party. Congratulations and my thanks to all of you who continuously worked day and night, forgetting meals and rest, on behalf of the Congress party candidates. In the Varuna constituency where I am contesting, not only from all corners of the state but also from other states have come and campaigned for me out of love and respect for me.
I have not even been able to meet them and thank them. This love and admiration is the strength of me and the Congress party. My heartfelt thanks to all of them," he tweeted in Kannada. Meanwhile, in case no party is able to secure a majority on its own, the role of Janata Dal (Secular) will become crucial, as it can play a possible 'kingmaker'.
Janata Dal (Secular) national spokesperson Tanveer Ahmed on Friday, said that they have already decided which party they would support in forming the government after the results are declared. Speaking to ANI, Ahmed said, "We have already decided with whom we are going to form the government. We will announce it to the public when the appropriate time comes."
JD(S) spokesperson mentioned that they have certain programs for the betterment of people of the Karnataka. He said that they know who is capable of working for issues such as women empowerment, farmers, education, employment and much more. "We have certain programs for the betterment of Karnataka. And we know who is capable of fulfilling that. The party knows who is going to work for issues such as women empowerment, farmers, education, employment, etc. and we will go with the same," he said.
Former CM and party leader HD Kumaraswamy on Wednesday, after casting his vote, had said that JD(S) party will be the 'King' in the Karnataka Assembly polls. "We are requesting people to bless JDS candidates to get proper development. Our party going to be a King," he said. The poll of polls shows an advantage for the Congress with the party poised to win 109 seats, BJP 91 seats and JD-S 23. In the 2018 assembly polls, BJP emerged as the single largest party with 104 seats, Congress won 80 seats and JD(S) got 37 seats.
The fiercely contested election that saw high-pitch campaigns from the political parties is crucial for both BJP and Congress. BJP is keen to retain the only state it has in southern India to further expand its footprint while Congress is keen to gain momentum for its challenge in the assembly polls later this year and the Lok Sabha elections in 2024. An incumbent government has not returned to power in Karnataka after a full term of five years since 1985. (ANI)
(This story has not been edited by Devdiscourse staff and is auto-generated from a syndicated feed.)