Is it mist? Is it fog? No its poisonous smoke: Kochi residents on waking up to smog in the city
---
PTI
|
Kochi
|
Updated: 10-03-2023 11:06 IST | Created: 10-03-2023 11:03 IST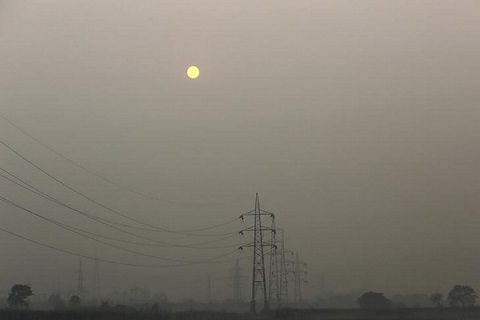 ---
Did Kochi wake up to a misty morning on a summer day? These were the first thoughts that struck Anoop Tomy on the morning of March 3, not realising initially it was smoke emanating from a treatment plant at Brahmapuram where a fire had broken out the previous day, which would soon lead to a mini exodus of sorts from this port city.
But Tomy realised the situation soon as news reports informed about a fire at the waste plant and being an Environmental Engineer who has worked in Oman's Waste Management Department for 7 years, he knew the danger his family, including his two-year-old child, was in.
''I Immediately told my parents to pack their bags and we left the city. The reason behind this decision was that I did not want to expose my family and my baby to the harmful carcinogenic pollutants in the smoke emanating from the waste plant,'' he told PTI.
He knew the unsorted waste at the plant would also contain PVC and clinical waste both of which on combustion release dioxins and furans. These are carcinogenic pollutants, he said.
''These dioxins and furans have the ability to cling on to dust particles, especially the PM 2.5 which can directly enter the bloodstream, and you cannot know what effect these may have on the body both in the short and long run,'' he said, explaining the reasons that forced him to leave the city.
Just like Tomy, who lives 15 km away from the waste plant, several other families in Kochi also chose to leave the coastal city.
According to the Principal and Headmistress of Sanskara school, located near Infopark which is close to the waste plant, many parents informed them they are leaving the city due to the smoke and sought that their children be exempted from attending classes for now.
''Some of those children suffer from allergic and breathing issues and when parents saw their kids having problems due to the smoke they decided to leave the city for now. Many parents informed me about it,'' Sanskara school principal Vinumon K Mathew told PTI.
''Classes are being held online now. The school is closed. We will reopen next week. All schools in this area have closed and are holding online classes,'' Sumitha, the school HM, said.
The fire broke out at the Kochi city corporation-run waste treatment plant on March 2 and by March 5 the district administration of Ernakulam declared a holiday on Monday for children in all schools in areas under Kochi corporation and the nearby municipalities and gram panchayats, as huge and thick clouds of toxic smoke billowing from the site engulfed the city.
Dr George Mothi Justin, Consultant Pulmonologist at the Medical Trust Hospital here, said these toxins as well as polycyclic aromatic hydrocarbons (PAHs) -- which are present in smoke from burning mixed-waste -- can cause rapid cell mutations which on becoming uncontrolled lead to cancers.
Besides cancers, inhaling such fumes would also result in reduction of lung capacity and decrease in a person's life span, he said.
''Each day you inhale such toxic fumes or polluted air, it is akin to smoking 10-20 cigarettes per day. That would lead to reduction in lung capacity and compromising of lung functions which in turn would decrease a person's life span. These toxins also cause cell mutations and replications and when it becomes uncontrolled, leads to cancer -- predominantly lung cancer,'' Dr Justin told PTI.
Besides these long term effects, exposure to such poisonous fumes even for a short while can exacerbate respiratory problems in those suffering from it and cause cold, cough, wheezing, allergic reactions, vomiting, nausea as well as itching in the eyes, he said.
''These symptoms were seen in several patients, around 20-30, in the past couple of days at the hospital. They specifically mentioned that these issues appeared after exposure to the smoke,'' he said.
Speaking about the damage to the air, water and soil due to the incident, Tomy said while the still smouldering fire gives out poisonous smoke, the fire- fighting efforts using water were also poisoning the environment.
''Using water is not the best solution. It leads to generation of hydrogen and can cause an explosion. Also water on combining with the pollutants there gets contaminated and forms other types of pollutants like cyanides and cyanates. It will also lead to soil and groundwater contamination. As the site is near a water source, a river, that too will get polluted,'' Tomy, who has returned home alone due to his work requirement, said.
Actor Sajitha Madathil was also confused when she saw a fog around her apartment complex.
''After the fire broke out, I stepped out onto the balcony one evening and saw the entire area appeared to be covered in fog. I actually thought it was fog until the toxic smell reached me. The smoke also entered my flat which is 5-6 kilometers from the plant,'' she told PTI.
Her friend's 3 year-old son fell sick probably due to the smoke, according to doctors, and the family moved to a farmhouse they had in Thrissur.
Madathil said she had experienced a slight heaviness in breathing, ''like we feel when in Delhi'', and still did as the smoke continues to emanate from the dump site.
A dump site and not a garbage treatment unit -- is how environmental activists, like Delhi-based Vikrant Tongad, and waste management experts referred to the Brahmapuram plant.
Siddharth Ghanshyam Singh, Program Manager, Solid Waste Management, at the Centre for Science and Environment said that according to his sources in Kerala, it was ''nothing but a mixed-waste dumping site''.
Where there is a mixed-waste dumping site, fires will be common there, he added. A similar view was expressed by Tongad also.
He stressed on the role of public also in waste management, other than the local administration and the government, as it was a ''shared responsibility''.
''While the local authorities and the state government are definitely to be blamed for what happened, the public too have a role in it. How many of the people actually segregate their waste right at home into organic, recyclable and non-recyclable?'' he asked.
The entire city was dependent on one dump site for all of its garbage and as a result of the fire, waste collection has come to a standstill there, he told PTI.
If the waste accumulates in the city it will lead to another health hazard, like the Surat plague of 1994, Singh warned.
(This story has not been edited by Devdiscourse staff and is auto-generated from a syndicated feed.)