"You can win four slams and Olympic gold": Novak Djokovic sets eyes on 2024 season
The 24-time Grand Slam champion Novak Djokovic, who wrapped up an amazing year on Sunday by winning a record-breaking seventh ATP Finals, has no plans to slow down
---
ANI
|
Updated: 20-11-2023 23:37 IST | Created: 20-11-2023 23:37 IST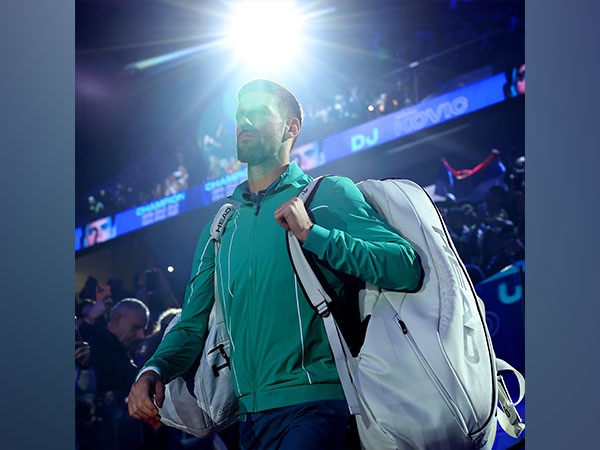 ---
The 24-time Grand Slam champion Novak Djokovic, who wrapped up an amazing year on Sunday by winning a record-breaking seventh ATP Finals, has no plans to slow down. This season he set numerous new records, increased his Grand Slam total to 24, and won the top rankings at the conclusion of the year for the eighth time.
When asked how he might improve such a successful campaign, the 36-year-old didn't think twice to set the standard high for himself. "Well, you can win four Slams and Olympic gold. Let's see. I have always had the highest ambitions and goals. That's not going to be different for the next year, that's for sure. The drive that I have is still there. My body has been serving me well, listening to me well. I have a great team of people around me," Djokovic was quoted as saying by ATP.
"Motivation, especially for the biggest tournaments in sport, is still present. It still inspires me to keep going. In the end of the day, people see you performing in the big tournaments, but they don't see all the weeks and months of dedicated day-to-day, week-to-week work, trying to build your form so that you can peak where you want to peak. For me, obviously those are Grand Slams and the [ATP] Finals, and next year hopefully also the Olympic Games," said the 24-time major champion. "The mindset is the same. I'll keep going. I don't know whether I'm going to have as good of a year next year, but I'm going to keep this freshness of mind and in a way motivation to do that," the 36-year-old said.
To win the ATP Finals title, Djokovic overcame three of the most promising young players on the ATP Tour. He first defeated Holger Rune in the group stage before eliminating Carlos Alcaraz and Jannik Sinner in the elimination stages. "When they play me, I want them to feel that it's going to require the best tennis from them in order to win against me. That's what I want my opponents to feel, no doubt, because that helps mentally coming into the match," he said.
"I think the more I win on the biggest stage, the more this kind of aura grows, and I'm glad for it, no doubt. Of course, that's not going to win you the match, but it might give you the little percentage, the little edge," he added. Djokovic praised Jannik Sinner, Carlos Alcaraz, and Holger Rune profusely, referring to them as "the next big three" who would "carry the sport" into the future. But for the time being at least, the Serbian is clearly the best player in the game as he sits atop the ATP Rankings.
"I will hang on for as long as I feel like hanging on. As long as I'm able to win against them on the big stage, I'll still keep going -- because why stop if you're still winning the biggest titles? Once they start to kick my butt, then I will consider probably having a little break or maybe a permanent break from professional tennis," Djokovic said. (ANI)
(This story has not been edited by Devdiscourse staff and is auto-generated from a syndicated feed.)