There will be no non-violence and hysteria in world when Hindus understand themselves well: Avdheshanand Giri
---
PTI
|
Raipur
|
Updated: 20-03-2023 00:27 IST | Created: 20-03-2023 00:24 IST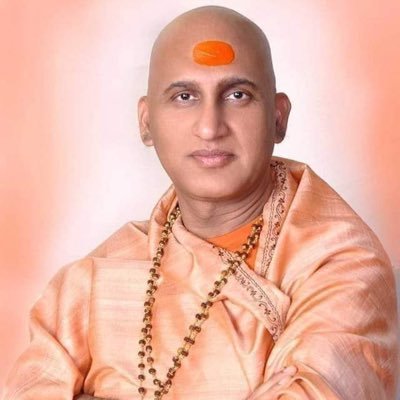 ---
Swami Avdheshanand Giri on Sunday said the day Hindus will understand their nature, there will be no "non-violence" and "hysteria" in the world and the Ram rajya will come.
Speaking at 'dharma sabha' in Chhattisgarh capital Raipur, he said while India considers the entire world as a family, the western countries treat it as a market.
The event was organised to mark the conclusion of 'Hindu Swabhiman Jagran Sant Padyatra', a month-long foot march by sants and seers in the state to spread the message of social harmony and make an appeal to declare India a 'Hindu rashtra'.
"The East India Company and many others from the West came here (India) to see the market. In the eyes of Hindus, the entire world is a family but it is a market in the eyes of the West. India considers the entire world as a family but the west considers it a market," Avdheshanand said.
He said the day Hindus become 'kattar' (staunch), they will not even fear to sacrifice themselves for truth and non-violence.
''The day Hindus become staunch, they will raise their voice for the rights of people, they will sacrifice their limbs to protect dharma and they will even sell their wife and kids for truth. The day Hindu will understand his nature, his identity, there will be no violence and hysteria on this earth and Ram Rajya will come,'' he said.
This gathering of sants is aimed at apprising people of the nature of Hindus, he added.
"If a person living in Hindustan is not a Hindu then who is he/she? If there are French in France, Dutch in Holland, Americans in America, Japanese in Japan and Britishers in England, then who are those living in India?" he said to which people replied 'Hindu'.
"We were (Hindus) and we will be (Hindus)..", he added.
He said if a DNA test is done it will show that all of our ancestors were Hindus.
''Millions of years ago we were all Hindus. Hindus consider the whole world as one family and do not want to hurt anyone,'' he added.
Other speakers appealed to people to take a pledge to make India a ''Hindu rashtra'' and resolved to rid Chhattisgarh of religious conversion.
The foot march was rolled out on February 18 under the aegis of Akhil Bharatiya Sant Samiti's Chhattisgarh unit with the support of Vishwa Hindu Parishad (VHP). It covered a distance of 4,500 km passing through all districts of the state before concluding in Raipur on Saturday.
More than 500 seers and sants from across the country took part in dharma sabha on Sunday.
(This story has not been edited by Devdiscourse staff and is auto-generated from a syndicated feed.)