Kazakh President emphasizes on global food, water security at Voice of Global South Summit
Kazakh President Kassym-Jomart Tokayev addressed the need to pursue the Sustainable Development Goals (SDGs), climate change, and food and water security in a joint effort with other countries at the Voice of Global South virtual summit on January 13.
---
ANI
|
Updated: 14-01-2023 21:56 IST | Created: 14-01-2023 21:56 IST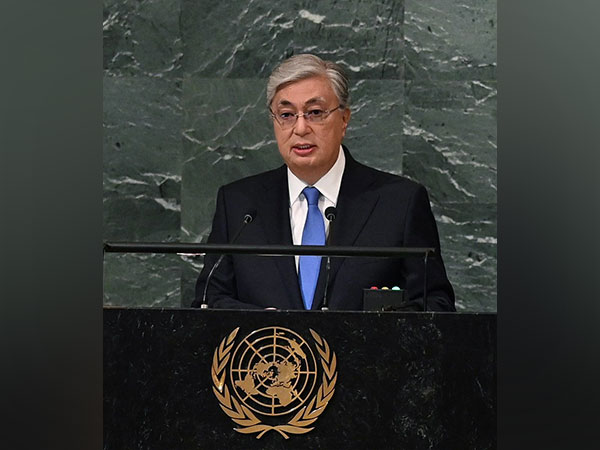 ---
The world needs to focus its efforts on achieving Sustainable Development Goals (SDGs) for Central Asia, climate change, food, and water security, Kazakh President Kassym-Jomart Tokayev said at the Voice of Global South virtual summit, The Astana Times reported citing Akorda press service. India hosted a two-day Voice of Global South Summit on January 12 and 13. The Summit was held in a virtual format, with 10 sessions in total. It saw the participation of Leaders and Ministers from 125 countries of the Global South.
President Tokayev called on all countries to focus their efforts on achieving the SDGs. "Therefore, we consider it important to establish the United Nations (UN) Regional Center on SDGs for Central Asia and Afghanistan in Kazakhstan. Such a centre will ensure the most effective coordination of the UN project activities in the region," said Tokayev. While addressing the virtual summit, the President said that Kazakhstan plans to continue the use of its agricultural potential to combat global food shortages.
He also supported Prime Minister Narendra Modi's call to depoliticize the global supply of food, fertilizers, and medical products, saying that international trade in food and fertilizers should not be subject to sanctions or other restrictions, as per The Astana Times report. According to him, a reliable and diversified global transit and transport infrastructure is critical in the current geopolitical situation. Tokayev also said that Kazakhstan would continue its efforts to diversify transport routes, including the Trans-Caspian International Transport Route (TITR), also known as the Middle Corridor.
He also said that over 5 billion people may face a shortage of drinking water due to climate change, according to the UN report. The President said that water scarcity and growing instability negatively impact the food, energy, and environmental security of states, reported The Astana Times.
"On these grounds, I propose introducing a system of exclusive rights and preferences for transferring water technologies, which will contribute to rational and equitable use of water resources," said Tokayev. Meanwhile, PM Modi in the virtual conference stressed that India wants globalisation that does not lead to unequal distribution of vaccines or over-concentrated global supply chains. "We want globalisation that brings prosperity and well-being to humanity as a whole. In short, we want a 'human-centric globalisation'," he added.
PM Modi announced the "Global South Centre of Excellence" to undertake research on developing solutions or best practices that would help the members of the developing world, The Astana Times reported. (ANI)
(This story has not been edited by Devdiscourse staff and is auto-generated from a syndicated feed.)