Restoration of Lithuania's State Day: Today's Doodle Honors 1918 Independence Act
---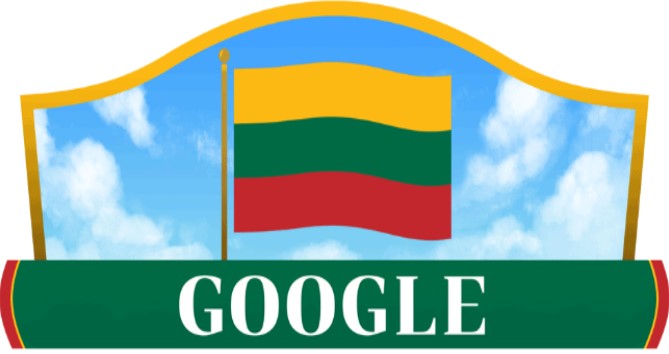 ---
Today's Doodle honors Lithuania's Restoration of the State Day. On this day in 1918, the Council of Lithuania decided against joining either Germany or Russia. Instead, Lithuanians ratified the Act of Independence, which established Lithuania as a sovereign state with Vilnius as its capital.
There are two national holidays in the country; the second, dubbed Restoration of Independence Day on March 11, commemorates the fall of Soviet power in 1990.
The celebration of the Restoration of the State Day recognizes Lithuania's efforts and tenacity in achieving freedom. People of all ages are educated about the significance of the occasion and those who signed the Declaration of Independence are recognized throughout the day.
Schools and businesses close to celebrating the national holiday so that people can attend festivities across the country. Flag-raising ceremonies, free opera concerts, and ballet performances in Vilnius' cathedral square are among them. Many people dress in the national colors of red, green, and yellow and wave the Lithuanian flag, which is depicted in today's Doodle. Those attending the festivities frequently eat Lithuanian delicacies such as burokli sriuba (beetroot soup), akotis (traditional cake), and the national dish cepelinai (potato and pork dumplings).
Source: Google Doodles
Also Read: Google Doodle pays tribute to PK Rosy, the first female lead in Malayalam film