Google doodle celebrates Freedom Day of South Africa
---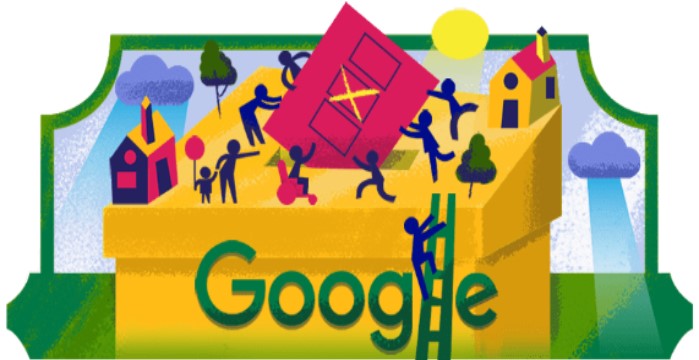 ---
Happy Freedom Day, South Africa!
Today, on April 27, 2023, Google Doodle celebrates the historic occasion of South Africa's Freedom Day. South Africans across the country and around the world celebrate this day, a national public holiday that commemorates the country's first democratic elections held on April 27, 1994. On this day, the country established a new democratic government, marking the end of apartheid and the beginning of a new era of freedom and equality for all citizens.
The day is a significant milestone in South Africa's history, and it is celebrated by people of all ages and backgrounds. Today's Google Doodle, which features the country's six-colored national flag, pays tribute to this historic occasion and serves as a reminder of the long and difficult struggle for freedom.
On April 27, 1994, South Africans went to the polls to vote in the country's first non-racial national elections. For the first time, all citizens of voting age, including foreign citizens permanently residing in South Africa, were allowed to vote. The elections marked the end of decades of institutionalized racism and discrimination and signaled a new era of hope and possibility for the country.
Since then, April 27 has been celebrated as Freedom Day, a national public holiday that celebrates freedom and commemorates the sacrifices of those who fought for it. South Africans honor the day by visiting historical sites, attending parades and festivals, and hosting barbecues with family and friends.
Popular destinations for Freedom Day celebrations include Constitution Hill in Johannesburg, a former prison complex that once held political prisoners such as Nelson Mandela, and Robben Island, where Mandela was held for 18 of his 27 years in prison. These sites serve as a powerful reminder of the courage and sacrifice of those who fought for freedom and justice.
On the first commemoration of Freedom Day, President Nelson Mandela addressed Parliament, saying: "As a new dawn ushered in this day, the 27th of April 1994, few of us could suppress the welling of emotion, as we were reminded of the terrible past from which we come as a nation; the great possibilities that we now have; and the bright future that beckons us. And so we assemble here today, and in other parts of the country, to mark a historic day in the life of our nation. Wherever South Africans are across the globe, our hearts beat as one, as we renew our common loyalty to our country and our commitment to its future."
Today, as South Africans celebrate Freedom Day, they renew their commitment to building a better future for all citizens. The day serves as a powerful reminder of the country's resilience and determination in the face of adversity and a testament to the power of unity and hope.