Archer's rocket-like speed puts Australia in puzzle
Archer's impact on field was much more than numbers as he released hellfire with his storming speeds that went as far as 96mph
Mrunmayi Sapatnekar
|
Updated: 21-08-2019 13:26 IST | Created: 21-08-2019 13:26 IST
---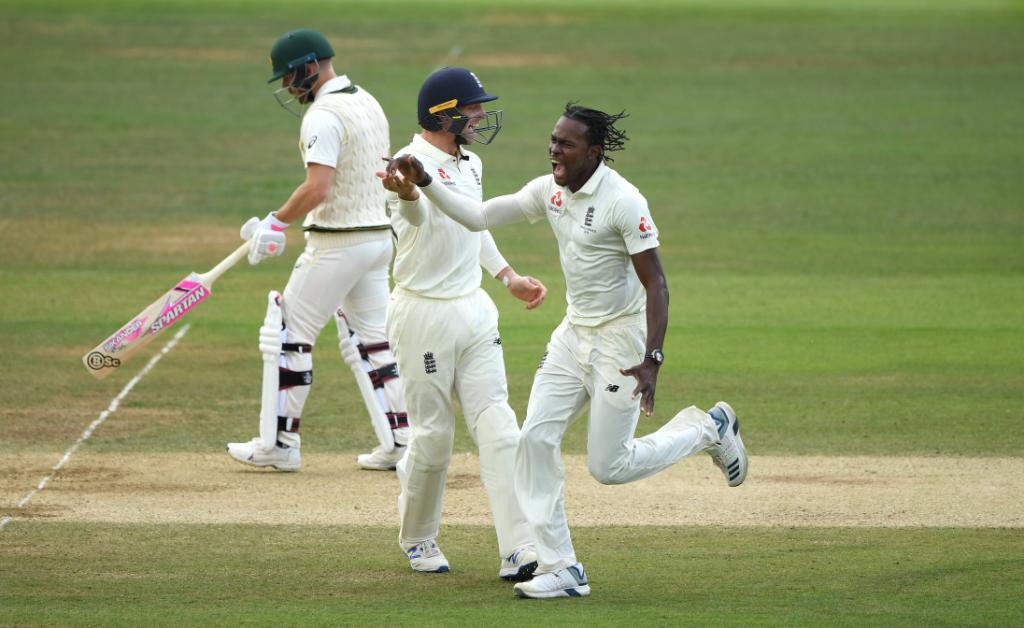 Every other cricket tournament is on one side and Ashes on the other. Every cricket fan, be it from any country looks forward to the vintage rivalry of England and Australia at Ashes. The rivalry is indeed vintage and gives us a fulfilling picture of the gentleman's game. England in much joy and delight stepped into the game while Australia, who couldn't make it to the World Cup finals, came all pumped up to mark the beginning of World Test Championship with Ashes.
The second game of Ashes though faced a lot of trouble due to rains, but it did give some interesting moments, courtesy of Jofra Archer, to the fans to enjoy the power-packed performances topped with oozed drama. Though the match ended in a draw, Australia has kept their 1-0 lead against England.
Archer's terrifying debut
The second test match in the Ashes is sure to be remembered for a long time the way Jofra Archer has displayed the performance on his debut. His impact on the field was much more than the numbers as he released hellfire with his storming speeds that went as high as 96mph. There were incidents when batsmen faced genuine physical threats from deceptively sharp lifters. He picked up two important wickets in the first innings - Australia's Cameron Bancroft and Tim Paine and sent Steve Smith to pavilion with a concussion injury.
In the second innings, he came like a rocket and eliminated David Warner, Usman Khawaja and Tim Paine again. He had an unbelievable economy of 2.1. England declared on 258 led by a brilliant century by Ben Stokes while Jofra Archer claimed two early wickets to give the hosts the sniff of an unlikely victory.
But Marnus Labuschagne, replacing Steve Smith as test cricket's first substitute, made 59 and Travis Head an unbeaten 42 to lead the Australians to safety and keep them 1-0 up in the series. Stokes scored 115 not out, hitting three sixes and 11 fours, as the hosts added 162 runs to their overnight score to give themselves a chance of leveling the series.
Coming back to Archer again, there are many people who are unhappy with the way he reacted when he injured Smith during the match. Pakistan's great Shoaib Akhtar criticized the pacer for "walking away while Steve Smith was in pain". The former Australia captain, however, was cleared off any serious injuries and came out to bat later on. He was finally dismissed for 92 on Day 4 of the second Ashes Test at Lord's.
Even the fans were also seen booing the batsman and to that Australian Prime Minister has also criticized this kind of gesture from the fans. Writing on Facebook on Monday, prime minister Scott Morrison called it a "total foul" that Smith had been the subject of jeers from the crowds - and urged the 30-year-old to silence his critics by "bringing home the Ashes". Though Smith is hopeful to return for the third test match it was the moral duty of Archer to go and attend the batsmen since it was his actions that made him injured.
Smith's absence huge loss for Australia
Even though there are doubts whether Smith will be appearing for the third test match or not, his absence might be a huge loss for Australia but the team has more percentage of winning the Ashes as compared to England. England is in high spirits after winning the maiden World Cup title but we all know how the team faced a humiliating defeat in the test match right after the World Cup against Ireland. Moreover, there has been a lot of criticism over England winning the World Cup as there was a lot of goof-ups when the umpire allotted those extra runs to England due to which the match went into the super over. And on the other hand, Australia want to win the game at any cost.
To put a spotlight to this situation that why am I focusing so much on Australia on winning the Ashes is because of England's top order stutters quickly during the batting session. Looking at the last match then Rory Burns scored 53 (127) while Jason Roy was sent back to pavilion for a duck. Even Joe Root and Joe Denly were unsuccessful in scoring the runs in first innings. The second innings was also not so great for the Englishmen. It was just Ben Stokes who scored 115 in the second innings.
England has a worrying situation with the top order and with three more Tests in hand and Australia leading with 1-0, England will have to win at least two. Though Archer is keeping things a bit in hand for England they still have a hard time coping up with the situation. And in all of this, Australia will be chalking out a plan to tackle the ultimate speed of Jofra Archer so that no one gets hurt further because it is literally like being in a boxing ring while facing Archer for Australia.
(Disclaimer: The opinions expressed are the personal views of the author. The facts and opinions appearing in the article do not reflect the views of Devdiscourse and Devdiscourse does not claim any responsibility for the same.)
---