Tata AIA's New Ad Campaign Encourages Women to Take Control of Their Dreams
The income generated from the plan can help her realize her dreams, without having to depend on anyone.Speaking on the launch, Girish Kalra, Chief Marketing Officer, Tata AIA Life Insurance said, At Tata AIA, women are a key consumer segment for us.
---
PTI
|
Mumbai
|
Updated: 09-03-2023 11:01 IST | Created: 09-03-2023 10:49 IST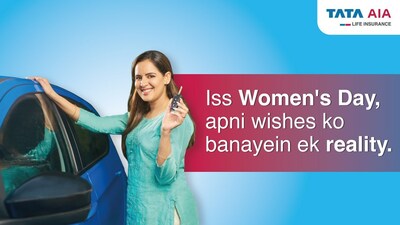 ---
Tata AIA Life Insurance (Tata AIA), one of India's leading Life Insurance Companies has unveiled a women-centric digital campaign, 'Empowering You To Achieve Your Dreams', that is aimed at empowering Indian women to take control of their financial planning while fulfilling their dreams and aspirations.
The campaign has been launched with simple, clear, and inspirational messaging. The film showcases a creative take on the independent spirit of every modern Indian woman. She aspires to own a car for her family and decides to chase that wish by taking matters into her own hands through a savings plan like TATA AIA's Guaranteed Tax Free Income Plan. The income generated from the plan can help her realize her dreams, without having to depend on anyone.
Speaking on the launch, Girish Kalra, Chief Marketing Officer, Tata AIA Life Insurance said, ''At Tata AIA, women are a key consumer segment for us. Our research studies on this front clearly reveal that today's women is aspirational and seeks the financial independence to be able to realise her dreams. We care completely aligned to her thoughts and are keen to celebrate her progressive thinking. Our latest women-centric campaign is a step forward to enable her to realise her financial independence and fulfil her aspirations in life. We have introduced specific solutions such as Tata AIA Guaranteed Income plans that enable our women consumers to receive guaranteed tax free income over the long term, and utilize the funds to fulfil their aspirations.'' The task of creating the campaign was entrusted to creative agency and production powerhouse, FCB Ulka. Sharing his experience, Kulvinder Ahluwalia – Chief Executive Officer, FCB Ulka Pvt. Ltd, added ''In today's day and age, women are more independent than ever. They handle their own finances, go after what they want and are more in control of their lives. Through this campaign, Tata AIA Life Insurance recognizes and show how financially independent women make for an unstoppable force to fulfil their dreams and ambitions.'' A recent study by Tata AIA on women and financial independence revealed that while Indian women are moving towards gaining financial stability, they are yet to be financially independent. Most working women and housewives are still dependent on their fathers and spouses to take key financial decisions with regards to saving or investing. Key insights from the survey are encapsulated below – • Financial Dependency - The survey findings indicated that 89% of married women depend on their fathers or spouses for financial planning. Thus, marriage is one of the foremost deterrent factors in impeding the independence in financial decision making for women.
• Independence for planning finances - For 39% of the women covered in the survey, financial planning is restricted to planning the monthly budget. Of 42% of the women who have a better understanding of financial planning, only 12% are homemakers. According to the survey findings, for most women being financially independent does not necessarily mean they have the freedom to make their finance related decisions. Among the working women, 59% do not independently take decisions on their finances. The ratio is higher in tier 3 markets, where 65% of working women do not take independent financial decisions.
• Intent towards Financial Planning - Given a choice, however, 44% of women are willing to make their own financial decisions. Encouragingly, in tier-2 markets, women are warming up to the idea of making their own financial decisions. Increased awareness of their rights and a general lifestyle upgrade could contribute to this change.
Keeping the findings from the above survey in mind, Tata AIA decided on the theme of the campaign of helping women consumers find the right footing in the space of financial investing. Tata AIA products also provide an added incentive to women consumers in terms of special discounts, preferred rates of interest, and loans at reduced rates to fulfil all the financial aspirations for themselves and for their loved ones.
The film is available for viewing here: https://youtu.be/hYse0docLQQ About Tata AIA Life Tata AIA Life Insurance Company Limited (Tata AIA Life) is a joint venture company formed by Tata Sons Pvt. Ltd. and AIA Group Ltd. (AIA). Tata AIA Life combines Tata's pre-eminent leadership position in India and AIA's presence as the largest, independent listed pan-Asian life insurance group in the world, spanning 18 markets in the Asia Pacific region.
About the Tata Group Founded by Jamsetji Tata in 1868, the Tata group is a global enterprise, headquartered in India, comprising 30 companies across ten verticals.
The group operates in more than 100 countries across six continents, with a mission 'To improve the quality of life of the communities we serve globally, through long-term stakeholder value creation based on Leadership with Trust'.
Tata Sons is the principal investment holding company and promoter of Tata companies. Sixty-six percent of the equity share capital of Tata Sons is held by philanthropic trusts, which support education, health, livelihood generation and art and culture.
In 2021-22, the revenue of Tata companies, taken together, was $128 billion (INR 9.6 trillion). These companies collectively employ over 935,000 people.
Each Tata company or enterprise operates independently under the guidance and supervision of its own board of directors. There are 29 publicly listed Tata enterprises with a combined market capitalization of $311 billion (INR 23.6 trillion) as on March 31, 2022.
Companies include Tata Consultancy Services, Tata Motors Tata Steel, Tata Chemicals, Tata Consumer Products, Titan, Tata Capital, Tata Power, Indian Hotels, Tata Communications, Tata Digital, and Tata Electronics.
About AIA AIA Group Limited and its subsidiaries (collectively ''AIA'' or the ''Group'') comprise the largest independent publicly listed pan-Asian life insurance group. It has a presence in 18 markets – wholly-owned branches and subsidiaries in Mainland China, Hong Kong SAR, Thailand, Singapore, Malaysia, Australia, Cambodia, Indonesia, Myanmar, New Zealand, the Philippines, South Korea, Sri Lanka, Taiwan (China), Vietnam, Brunei, and Macau SAR, and a 49 per cent joint venture in India.
The business that is now AIA was first established in Shanghai more than a century ago in 1919. It is a market leader in Asia (ex-Japan) based on life insurance premiums and holds leading positions across the majority of its markets. It had total assets of US$302 billion as of 30 June 2022.
AIA meets the long-term savings and protection needs of individuals by offering a range of products and services including life insurance, accident and health insurance and savings plans. The Group also provides employee benefits, credit life and pension services to corporate clients. Through an extensive network of agents, partners and employees across Asia, AIA serves the holders of more than 40 million individual policies and over 17 million participating members of group insurance schemes.
AIA Group Limited is listed on the Main Board of The Stock Exchange of Hong Kong Limited under the stock code ''1299'' with American Depositary Receipts (Level 1) traded on the over-the-counter market (ticker symbol: ''AAGIY'').
(This story has not been edited by Devdiscourse staff and is auto-generated from a syndicated feed.)