India, EU to coordinate within Global Partnership on Artificial Intelligence
The two sides will coordinate their policies with regard to the strategic semiconductor sector, with the aim of concluding a Memorandum of Understanding by September 2023.
---
ANI
|
Updated: 17-05-2023 09:13 IST | Created: 17-05-2023 09:13 IST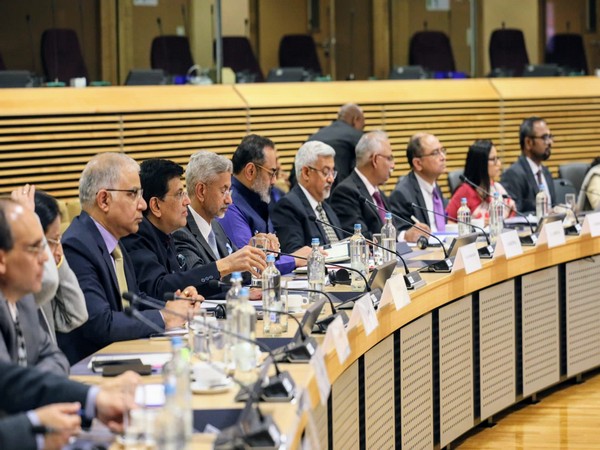 ---
India and the European Union will coordinate within the Global Partnership on Artificial Intelligence (GPAI) and explore bilateral cooperation on trustworthy and responsible Artificial Intelligence, including in research and innovation, according to India-EU joint statement. The two sides will coordinate their policies with regard to the strategic semiconductor sector, with the aim of concluding a Memorandum of Understanding by September 2023.
Furthermore, India and the European Union will work towards bridging the digital skills gap, explore Mutual Recognition of certifications and make progress on the promotion of skilled professionals and exchange of talent. They will also enhance cooperation on IT and Telecoms Standardisation with a particular focus on promoting interoperable standards. Both sides recognise the importance of Digital Public Infrastructure (DPI) for the development of open and inclusive digital economies and digital societies, and realise that the DPI approach leverages technology, markets and governance to create population-scale digital ecosystems that promote inclusive development and competitive markets and accelerates the progress for achieving 2030 Agenda for Sustainable Development and Sustainable Development Goals, added the statement.
To that end, India and the European Union have agreed to collaborate on enhancing the interoperability of their respective Digital Public Infrastructures and on this basis jointly promote secure, privacy-preserving solutions to the benefit of Developing Countries. In addition to the abovementioned priorities, there is an opportunity for both sides to work together on areas such as Platforms, Data Governance and Telecoms Regulation.
India and the European Union have set ambitious goals of achieving net zero emissions by 2070 and 2050 respectively. They have also taken commitments to halt and reverse Biodiversity loss by 2030 and to promote Circular Economy. "Achieving these targets and objectives will require significant investments in new clean technologies as well as increased research and innovation efforts. To this end, the Working Group on Green and Clean Energy Technologies will focus on relevant aspects of three areas: (1) Renewable and Low Carbon Hydrogen; (2) Batteries for Electrical Vehicles and (3) Standards Under these focus areas, India and the EU will start with implementing the joint wastewater treatment and management projects to facilitate their market uptake; work on wastewater to energy and on waste to Hydrogen; undertake gap analysis on how to tackle marine plastic litter/pollution; share knowledge on circularity aspects of batteries and recover raw materials; and develop standards that can ensure interoperability, including for Renewable and Low Carbon Hydrogen," read the statement.
By investing in these areas, India and the European Union will seek to drive innovation and promote sustainable development in a way that helps meet their respective climate targets, strengthening the role of start-ups, and building skills and capacity. Working Group on Trade, Investment and Resilient Value Chains aims to deepen bilateral cooperation in specific areas of mutual interest.
They complement the ongoing negotiations for legally binding agreements on Trade, Investment Protection and Geographical Indications, that proceed on a separate track. To this end, the two sides intend, in the year to come, to focus on the following four areas: Resilient Value Chains; Market Access; exchange of information and multilateral trade issues, with particular emphasis on the World Trade Organization, including the forthcoming Ministerial conference-13.
The sides will also intensify their engagement to address the issues that emerge in the implementation of carbon border measures. India and the European Union underlined the importance of advancing across all Working Groups established under the TIC. The co-chairs will meet again in early 2024 in India to take stock of the progress achieved and decide on further actions.
India - EU Trade and Technology Council (TIC) met in Brussels on May 16, 2023. The meeting was co-chaired by External Affairs Minister S Jaishankar, Commerce Minister, Piyush Goyal and Minister of State Rajeev Chandrasekhar with European Commission Executive Vice-Presidents Margrethe Vestager and Valdis Dombrovskis, and joined by High Representative/Vice-President Josep Borrell and European Commissioner Thierry Breton.
"Just concluded an extremely productive 1st India-EU Trade and Technology Council meeting. Thank European Commission VPs @vestager and @VDombrovskis for hosting the Indian Ministerial delegation," tweeted Jaishankar. Rapid changes in the world's geopolitical environment highlighted the need for an even deeper strategic partnership between India and the European Union.
"On strategic technologies, digital governance and connectivity; clean and green energy technologies; resilient value chains, our discussions were truly meaningful," tweeted Jaishankar. As vibrant democracies, open market economies and pluralistic societies, India and the European Union share fundamental values and have a common interest in ensuring security, prosperity and sustainable development in a multi-polar world.
"Exchanged perspectives on economic security; cooperation in third countries including connectivity and derisking the global economy. Confident that this mechanism will further energise our strategic partnership," tweeted Jaishankar. Prime Minister Narendra Modi and President Ursula von der Leyen agreed to set up the TTC as a key coordination platform to address key trade, trusted technology and security challenges, to promote a human-centric approach to digital transformation, and to deepen their bilateral relationship in these fields.
The choice of this format reflects the strategic nature both sides attach to their bilateral relationship, the desire to guide their cooperation towards tangible results and the geopolitical significance of their trade and technology links in the context of a more contested and rapidly evolving international environment, added the statement. They reaffirmed that international rules-based approaches to trade, technology, and innovation that are founded on solid democratic principles and values can improve the lives of their citizens and generate greater prosperity for people around the world.
India and the European Union are committed to deepening their partnership and leveraging their respective strengths to accelerate the development and deployment of advanced digital technologies that will benefit both societies and promote global progress in line with our common values, read the joint statement. The India-EU TTC Working Group on Strategic Technologies, Digital Governance and Digital Connectivity defined priority areas and outlined the next steps.
The India and the European Union will undertake Quantum and High-Performance Computing research and development projects that could address climate change, natural hazards, bio-informatics, bio-molecular research, and drug development. (ANI)
(This story has not been edited by Devdiscourse staff and is auto-generated from a syndicated feed.)