Karnataka releases 5000 cusecs of water to Tamil Nadu
Karnataka has cited severe drought in parts of its state to refuse supply of water to Tamil Nadu. The Tamil Nadu Government has accused its neighbour of lying to the nation on the supply of water.
---
ANI
|
Updated: 19-09-2023 09:39 IST | Created: 19-09-2023 09:39 IST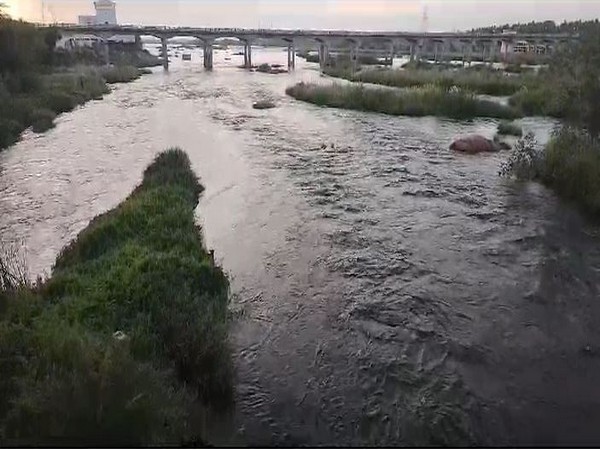 ---
Karnataka Government on Tuesday released five thousand cusecs of water from Krishna Raja Sagara dam in the Mandya district to Tamil Nadu for next 15 days. "The water release started on Monday night," officials said.
This came following the order of Cauvery Water Management Authority asking Karnataka to continue supply of 5000 cusecs for next 15 days with effect from September 13. This was decided at the meeting of the CWMA, held in the national capital on Monday
"Karnataka releases five thousand cusecs of water from KRS dam to Tamil Nadu following an order by CWMA," officials said. After the meeting, CWMA, in a press note said, "Taking note of the severity of the drought in the Cauvery basin of Karnataka, which has been increasing and enlarging putting at a greater risk even the drinking water needs and minimum needs of irrigation, Karnataka made submissions that it is not in a position to release the water unless the inflows into the reservoirs improves."
"In turn, Tamil Nadu urged for releasing a total 12,500 cusecs of water (which is inclusive of backlog of 6,500 cusecs) for next 15 days. Finally, CWMA duly upholding the recommendations of CWRC has ordered that Karnataka has to ensure 5000 cusecs realization at Biligundlu for the next 15 days as indicated by CWRC, effective from September 13," it added. The next meeting of the CWMA will be held on September 26.
Karnataka has cited severe drought in parts of its state to refuse supply of water to Tamil Nadu. The Tamil Nadu Government has accused its neighbour of lying to the nation on the supply of water. Farmers in Mandya, Karnataka have been protesting the release of Cauvery waters to Tamil Nadu, expressing deep discontent at the state government complying with directives of the Cauvery Water Management Authority (CWMA) to release Cauvery river water to Tamil Nadu
The governments of Karnataka and Tamil Nadu have been locked in a protracted tussle over the sharing of Cauvery waters. On Tuesday the delegation of Tamil Nadu MPs and MLAs led by state Water Resources Minister Durai Murugan is expected to meet Union Water Resource Minister Gajendra Shekhawat in an effort to break the deadlock. The Cauvery river is seen as a major source of sustenance for the people in either state. The Centre formed the Cauvery Water Disputes Tribunal (CWDT) on June 2, 1990, to adjudicate disputes between Tamil Nadu, Kerala, Karnataka, and Puducherry with respect to their individual water-sharing capacities. (ANI)
(This story has not been edited by Devdiscourse staff and is auto-generated from a syndicated feed.)