Renewables in focus to revive energy sector as economies ease lockdowns
A sudden slump in energy consumption due to worldwide lockdown caused by the COVID-19 had threatened the energy transition due to a plunge in oil prices. However, as predicted by COE-EDP clean energy and inward-looking policies are the focus of the reviving energy sector across economies in the post-lockdown period.
---
COE-EDP
|
Updated: 06-06-2020 23:58 IST | Created: 06-06-2020 23:57 IST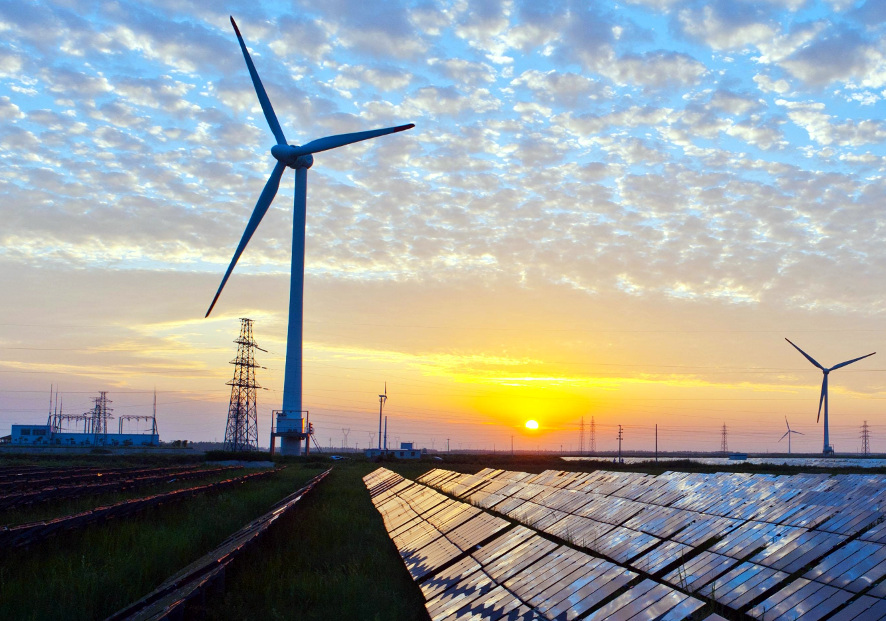 ---
Though the oil industry is still struggling for a comfortable price, the trends in the reviving energy sector indicate the importance of clean and renewable energy. As indicated in the previous research-based analysis of the Centre of Excellence on Emerging Development Perspectives (COE-EDP) titled 'Energy markets post-COVID 19: Recovery may take time, transition to continue' the clean energy has retained its importance in global energy scenario. The economies are coming up with new policies to promote clean and affordable energy, companies forming alliances and updating strategies to occupy the potential markets. Furthermore, several countries are showing a strong urge for inward-looking policies to achieve greater degrees of self-reliance in the energy sector.
Here we present a report on the trends in the energy sector to help our audience to visualize the trajectory of the global energy market during and post COVID-19 scenarios.
Energy Policies
Spain, one of the worst COVID-19 affected European countries, has announced to give legal status to its 'green deal' target of reducing greenhouse gas emissions to net-zero by 2050 by shifting away from fossil fuels. Spain also aims to get all of its electricity from renewable sources by the middle of the century. In the interim, it wants to increase the share of renewables from existing 47.3% in April 2020 to 70% by 2030. So far, five European countries such as Sweden, Britain, France, Denmark, and New Zealand have enacted laws to achieve the 'net zero' emission target by 2050 in pursuance of their commitments to the Paris Agreement on Climate Change 2015.
However, the mother of all incentives for energy transition came from the European Union which on May 27 increased its proposed EU fund for the energy transition to five times with an objective to wean carbon-intensive regions off fossil fuels. The increased amount is about 40 billion euros ($43.88 billion) as per 2018 prices, made up of 30 billion euros from the EU coronavirus recovery fund, and 10 billion euros from the bloc's budget for 2021-27.
As predicted in the COE-EDP analysis, the financial crises in OPEC countries are adversely affecting investment in renewables. Recently, the middle east nation Oman was forced to liquidate its 31% share in Glass Point Solar company. Preference for inward-looking energy policies was seen in Argentina, India, and some other countries. Argentina imposed $45 per barrel price to protect the domestic market while India did not allow the benefits of low oil prices in the international market to reach customers to protect its public sector companies from huge losses. More inward-looking energy policies are expected in the post-COVID-19 period.
Renewable Energy Projects
Though the economies are still in the middle of COVID 19 pandemic, we see an increasing trend of new projects in renewable energy while fossil fuel-based energy projects are suffering due to slump in demand. Most recently, Saudi Arabia and Kuwait agreed to half oil production from the joint Al-Khafji field for one month. Some of the positive signs for renewable energy projects are as follows:
South African nation Zimbabwe on May 18 invited competitive bids to install 500 MW of solar power to meet the power demands in the country and decrease its dependence on traditional energy sources such as hydropower and thermal power.
ReNew Solar Power in India bagged 400 MW of renewable energy projects from the Indian Ministry of New and Renewable Energy (MNRE). The project is expected to complete in about 24 months and aims to provide 100% renewable energy to concerned power distribution companies.
USA's Hawaii island is working to achieve 100 percent renewable energy target through solar energy by 2045.
Furthermore, the World Bank Group report on 'Minerals for Climate Action: The Mineral Intensity of the Clean Energy Transition' released on May 12 also predicts encouraging trends in the renewable energy sector. According to the report, the production of minerals such as graphite, lithium, and cobalt which are used in wind, solar and geothermal power generation and storage could increase by nearly 500 percent by 2050 to meet the growing demand for clean energy technologies. The carbon footprint of their production - from extraction to end-use - will account for only six percent of the greenhouse gas emissions generated by fossil fuel technologies, estimated the report.
The international energy agency (IEA) has also estimated a decline in fossil fuel market but gain in the renewable energy sector in the remaining period of 2020. Pitching hard for about $130 trillion investment in the renewable energy sector to achieve decarbonized energy system by 2050, the International Renewable Energy Agency (IREEA) argued that each $1 spent on the energy transition would yield a return of $3-$8, by curbing the costs associated with the devastation caused by climate change and the deadly health impacts of air pollution.
Strategies of Private Sector
Private sector companies are also updating their strategies and making alliances to compete in the global renewable energy market in the post-COVID 19 world.
European Investment Bank (EIB) and Unión de Créditos Inmobiliarios (UCI) signed an agreement on May 27 which enables UCI to generate a new portfolio of green financing of at least EUR 100 million in Spain and Portugal, which includes mortgages, loans to individuals and loans to associations.
India's major public sector units (PSUs) - National Thermal Power Corporation (NTPC) and Oil and Natural Gas Corporation (ONGC) – on May 23 signed a Memorandum of Understanding (MoU) to explore setting up of offshore wind and other renewable energy projects in India and overseas. As per the MoU, they shall explore opportunities in the fields of sustainability, storage, E-mobility, and ESG (Environmental, Social, and Governance) compliant projects. NTPC has a target of 32 GW of renewable energy projects by 2032 while ONGC aims to achieve 10 GW by 2040.
Wuhan in China was the first city to be put under lockdown on January 21 but the dragon reportedly completed the installation of 4 GW of solar energy in the first quarter (Q1) of 2020. As China's economy is recovering fast, the Chinese companies are updating their strategies and business models to claim the largest pie in the global renewable energy market.
However, the most encouraging experience in renewable energy came from Somalia. Facing the shortage of diesel supply, BECO, Somalia's largest electricity supplier, started producing 8MW of solar power with the solar power panels bought from Germany and Britain. According to BECO's official statement, the additional solar power in its mix had already reduced electricity costs to $0.36 per kilowatt-hour from $0.49 per kilowatt-hour. The company is planning to increase the solar power capacity to 100 MW by 2022, at a cost of $40 million. Lack of adequate storage system is reportedly the only hurdle for BECO to phase out diesel power generators.
Stock Markets
In an unexpected scenario, reviving the Chinese economy seems to fast emerging as a push factor for the global fossil fuel market or hydrocarbon sector. Following are evidence from the share market that shows the increasing impact of China in the global energy market:
London's FTSE 100 went up by 1.5% on May 15 due to a jump in China's factory output for the first time in 2020 powered miners and oil and gas producers. Here, BP Plc and Royal Dutch Shell Plc provided the biggest boost. Besides, miners including Rio Tinto, Glencore, and BHP Group jumped between 3.8% and 4.5%.
The Hong Kong share market also witnessed a rise of 137 points in Hand Sang Index at the time of closing the trade on May 18. Here too all the top gainers were energy companies primarily dealing in fossil fuel such as CNOOC Ltd (7.84%), followed by PetroChina Co Ltd (5.47%) and China Petroleum & Chemical Corp, up by (3.98%).
Energy sector companies also pushed the US and European Stock Markets.
The dependency of share markets on the Chinese economy and US-China relations is a new phenomenon for the oil companies. Earlier, decisions of the USA, Saudi Arab, Russia, Iran, and other OPEC countries were used to be the main influencers for the energy sector.
Trends in Hydrocarbons/Fossil Fuel Market
The Brent crude oil price has improved from its lowest $18 a barrel (lowest since November 2001) to $ 36.17 a barrel in the international market but is still much below the pre-pandemic period of about $ 70.74 a barrel in January. The low oil prices forced the OPEC + (Organization of Petroleum Exporting Countries, Russia, and other producers) countries to slash production by 9.7 million barrels per day from May 1 to improve oil prices.
Besides, the Oil companies throughout the world including the US majors such as Occidental Petroleum Corp and Salt Creek Midstream are reportedly staring at bankruptcy. Meanwhile, the Nigerian government amended its budget by assuming the oil prices at $20 per barrel for 2020.
In another indication of uncertainty in the oil market, Iran's Oil Minister Bijan Zanganeh said on May 26, "No one can predict crude prices and now the demand is vague'. He also expressed shock on Turkey's reluctance for not repairing a gas pipeline which transports 10 billion cubic meters of Iranian gas to Turkey. Though there may be various geopolitical factors behind this decision, the result is a decrease in demand for natural gas. According to estimates, the global demand for petroleum oil went down to about 30 % due to COVID 19.
The regular requirement of the huge workforce is another drawback of oil and other fossil fuel industry which is not suitable for the COVID 19 pandemic as it requires strict social distancing measures. While renewable energy projects are operational, the oil refineries were forced to shut down in countries dependent on revenue from oil such as Angola.
Similarly, coal and natural gas markets were also hit due to reduced demand.
Conclusion and Agenda for Discussion
International Energy Agency (IEA), on the basis of daily data collected during lockdown till April 14 from 30 countries which represent two-thirds of global energy demand, has estimated that energy demand plunged across sources but renewables were the 'only source that posted growth in demand, driven by larger installed capacity and priority dispatch'. Another report of IEA titled – Renewable Energy Market Update: Outlook for 2020-21 – also corroborates the prediction of the COE-EDP that 'recovery may take time, transition to continue'. The IEA, on the basis of its sample of 30 countries, has predicted it statistically - 13% decline in renewable energy capacity in 2020 in comparison to 2019 but the renewables are expected to pick up the pace by 2021.
As predicted by COE-EDP, the concerns of carbon emission, global warming, and climate change but not the market price are motivating factors behind the recovery of renewable energy markets. These concerns are primary forces to push the nations and international organizations to provide incentives and funding for green energy projects thereby catalyzing energy transition. The recent tracking of markets reveals that the great crash of the oil market could not adversely impact the renewable energy sector but a decrease in growth rate is only due to disruption in the supply chain, construction, and social distancing measures caused by the pandemic and lockdown. COE-EDP's prediction about the increase in global battery energy market due to increase in the use of IT gadgets, robots, and other AI-based technologies was also corroborated in the prediction of 'Research and Markets' which estimated the global battery energy market to increase from $5.7 billion in 2020 to $7.3 billion in 2021.
Besides its role in reducing carbon emission, renewable energy plants have two more benefits – pandemic resilience and stabilizing energy prices. Renewable energy plants are more local, operate in an isolated manner, and do not require huge infrastructures like refineries, hydropower, and electricity grids. Furthermore, they are also resilient from price fluctuations in the international market. The prices of renewables are largely stabilized in comparison to the oil market which is highly fluctuating due to a variety of geopolitical factors. We predict these factors will continue to push economies for renewable energy policies and catalyze energy transition in the post-pandemic world.
However, the most problematic picture is emerging from G20 countries which, according to Emission Gap Report 2019 of the United Nations, account for 80% of carbon emissions but are doing little for the energy transition. This is evident from WEF's Fostering Effective Energy Transition 2020 in which only two G20 countries – the UK (7th) and France (8th) are among the top 10. The two warring superpowers – the US and China – are at 32nd and 78th rank respectively. The rising pollution in China in the post-lockdown period indicates the dragon has not changed its energy priorities and is still focused on high industrial growth to capture the global market without any second thought on carbon emission while smaller countries are investing in clean energy. Recent studies suggest that the pollution level in China in the post-lockdown period has risen to the level of 2019. However, India which is the second-largest emerging center of demand in Asia improved on all the parameters and also it's ranking to 74th place.
The reluctance of G20 countries to continue with fossil fuel for high industrial growth is a major challenge before the world. It's high time the UN agencies find out highly convincing models of energy transition which will be unanimously adopted by G20 countries to meet the targets of reducing carbon emissions. There is a need for a multi-pronged holistic effort to achieve the targets of affordable and clean energy adopted as the seventh sustainable development goal (SDG7) of the United Nations (SDG 2030).
Centre of Excellence on Emerging Development Perspectives (COE-EDP) is an initiative of VisionRI and aims to keep track of the transition trajectory of global development and works towards conceptualization, development, and mainstreaming of innovative developmental approaches, frameworks, and practices.
FIRST PUBLISHED IN:

Devdiscourse