Somalia car bomb strikes EU convoy, no casualties -police (UPDATE 2)
---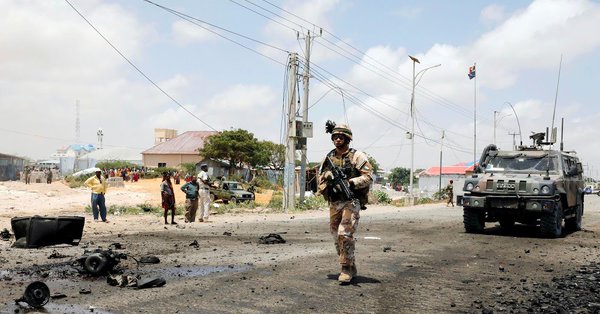 ---
A suicide car bombing by Islamist group al Shabaab hit a European Union armoured convoy in Somalia's capital Mogadishu on Monday, damaging one vehicle but causing no casualties, police and the Islamists said.
A Reuters witness saw men towing their damaged vehicle after the explosion hit its rear end. The armoured vehicles had Italian and EU flags on them. Police said the blast caused no casualties.
"We targeted officers of EU forces with (a) suicide car bomb. We shall give details of casualties later," Abdiasis Abu Musab, the group's military operations spokesman told Reuters.
Al Shabaab frequently carries out attacks in the Horn of Africa country.
The al Qaeda-affiliated militants want to topple Somalia's Western-backed central government and impose their own rule based on their strict interpretation of Islam's sharia law.
The European Union is one of the major sources of funding for the African Union-mandated peacekeeping force AMISOM which helps defend Somalia's central government against the Islamists.
(With inputs from agencies.)