Sports News Roundup: Eli Manning announced retirement; Delaware high school game ends with three players and more
Devdiscourse News Desk
|
Updated: 25-01-2020 05:34 IST | Created: 25-01-2020 05:21 IST
---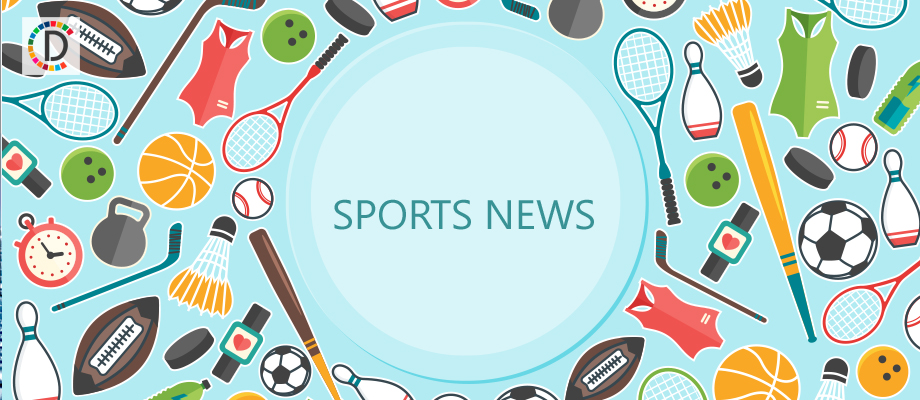 Following is a summary of current sports news briefs.
Through 16 seasons, Manning says he did it 'my way'
Not one for flash or grandstanding, New York Giants quarterback Eli Manning announced his retirement from the NFL on Friday quoting the time-worn wisdom of Frank Sinatra, another New York icon who sang: "I did it my way." Call him plain-spoken or even low-energy, Manning has heard it all in his 16 seasons with the Giants, along the way picking up two Super Bowl championships while never trying to match the big personalities of the big city he would come to represent.
Delaware high school game ends with just three players on court after brawl
A U.S. high school boys' basketball game in Delaware ended in unusual fashion as a slew of ejections following a bench-clearing brawl and other fouls left just three players on the court to decide the outcome. According to a report https://www.capegazette.com/article/fight-results-3-3-game-between-cape-and-sussex-tech/196594 in the Cape Gazette newspaper, a third-quarter fight during Thursday's game between Cape Henlopen High School and rival Sussex Technical High School resulted in a slew of ejections that left each team with just three players.
Runaway Iranian athlete wants to compete for Germany in Tokyo
Iran's only female Olympic medallist, Kimia Alizadeh, wants to compete for Germany as soon as the next Games in Tokyo, but regardless of whether she achieves that ambition, she never expects to return to her home country. Alizadeh, who won taekwondo bronze at the 2016 Rio Olympics, announced earlier this month that she had defected to Europe because she felt she had been used as a propaganda tool by Iran.
NBA board to discuss schedule changes in April says Silver
The creation of an NBA in-season tournament will be discussed at the league's board meeting in April as the game's stakeholders look to adjust the season's schedule, commissioner Adam Silver said on Friday. Speaking ahead of the NBA regular-season game between the Charlotte Hornets and the Milwaukee Bucks in Paris, Silver said that it was still unclear whether the changes would take place in the 2021-22 season.
Judge revokes passport, orders eval of Antonio Brown
Antonio Brown was released on a $110,000 bond on Friday by a Broward County, Fla., judge who ordered a mental health evaluation, revoked Brown's passport and required GPS monitoring as terms of his conditional freedom. Brown is facing charges of burglary with battery (a felony), burglary of an unoccupied conveyance and criminal mischief.
Edison reinventing PBA as bowling's new kingpin
In the 1960s and 70s when ten-pin bowling was in its heyday the sport's best players earned as much or more than top baseball and football players and Professional Bowlers Association (PBA) kingpin Colie Edison believes it can be that way again. Once a house guest on the MTV reality series The Real World, most would think Edison is living in dreamland if she reckons professional bowling will ever return to its golden era.
RSL reaches deal with Baird through 2023 season
Real Salt Lake forward Corey Baird agreed to a deal through the 2023 season, the club announced Friday. The 23-year-old Baird has 13 goals and nine assists in 62 matches (44 starts) in his two seasons. He was MLS Rookie of the Year in 2018 when he had eight goals and five assists in 31 games.
Federer finds 'super breaker' to his liking after escaping defeat
Roger Federer has never struggled for ways to win matches at the Australian Open but in beating John Millman to chalk up his 100th on the Melbourne hardcourts the 38-year-old Swiss found himself in uncharted territory on Friday. For the first time, Federer experienced the Australian Open's unique system for ending prolonged contests, a so-called 'super breaker' -- a first to 10-point tiebreak activated when the score reaches six games all in deciding sets.
Fireworks ring monument light up Tokyo six months before Games
Fireworks lit up the night sky above Tokyo Bay on Friday and a giant monument of the Olympic rings was unveiled in the shadow of Rainbow Bridge as the Japanese capital marked six months until the start of the Games. After a decade of planning, Tokyo 2020 organizers have entered the final stretch ahead of the Olympics opening ceremony on July 24.
ATP to use electronic review at select clay-court events in 2020
An electronic review system will be in place on clay courts for the first time on the ATP Tour as part of a trial that will be in place at select events this season, the governing body for men's tennis said on Friday. Players are already able to challenge line calls on hard and grass courts but their inability to do so on clay, where chair umpires are left to rely on ball marks in the dirt, have caused a number of controversies.
---